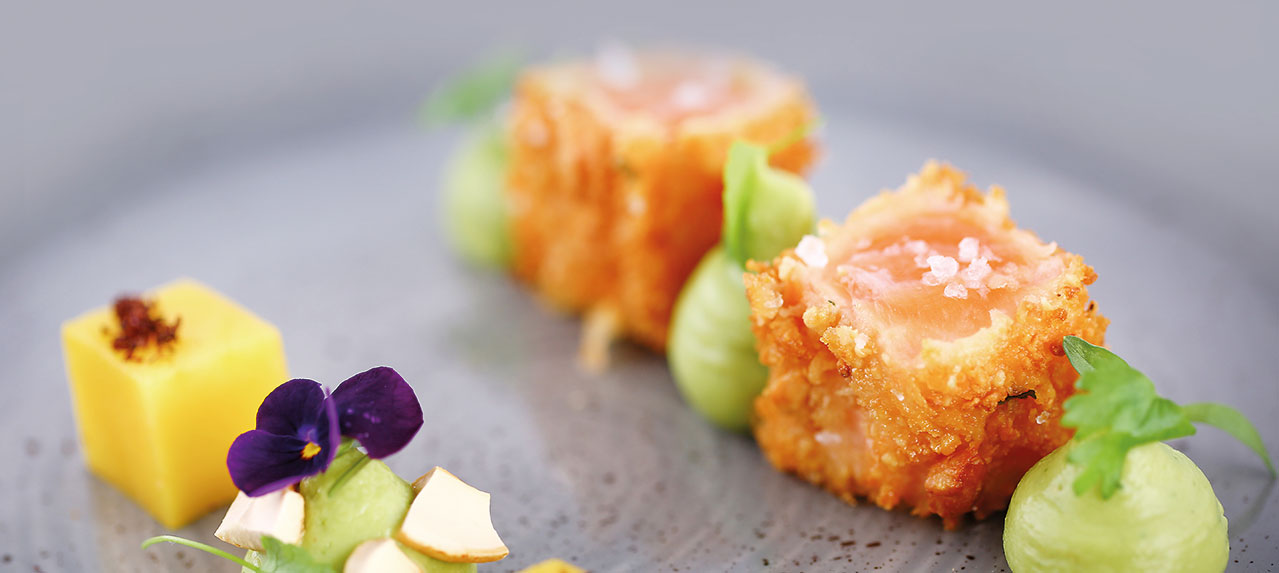 • 800g fresh salmon fillet
For tempura paste
• 80g sifted flour
• 20g panko Japanese breadcrumbs • 50g potato starch
• 20g cashews,
• 1 teaspoon salt
• 1 egg, only the yolk
• 150ml sparkling water
• Frying oil
Cream of guacamole
• 2 very mature avocados
• 2 ripe avocados
• A few sprigs fresh coriander
• 1 or 2 limes
• 1 small fresh onion
• Salt
• 1 mango
Cream of guacamole
1. Chop the fresh onion and the coriander leaves.
2. Mix the avocado, add the onion, coriander, juice of one (or 2 to suit to taste) lemon and salt to taste.
3. Place the preparation in a piping bag.
Salmon tempura
1. Slice the salmon fillets thick enough to make cubes.
2. Whisk all the ingredients together until a smooth paste is obtained. Allow to rest for 30 minutes to 1 hour in a cool place.
3. Coat the salmon slices and dip into the hot frying oil. Drain when they are golden brown and serve hot.
4. Cut the mango into squares.
5. Arrange a few points of guacamole and insert the salmon cubes. Also arrange two cubes of mango on the plate.