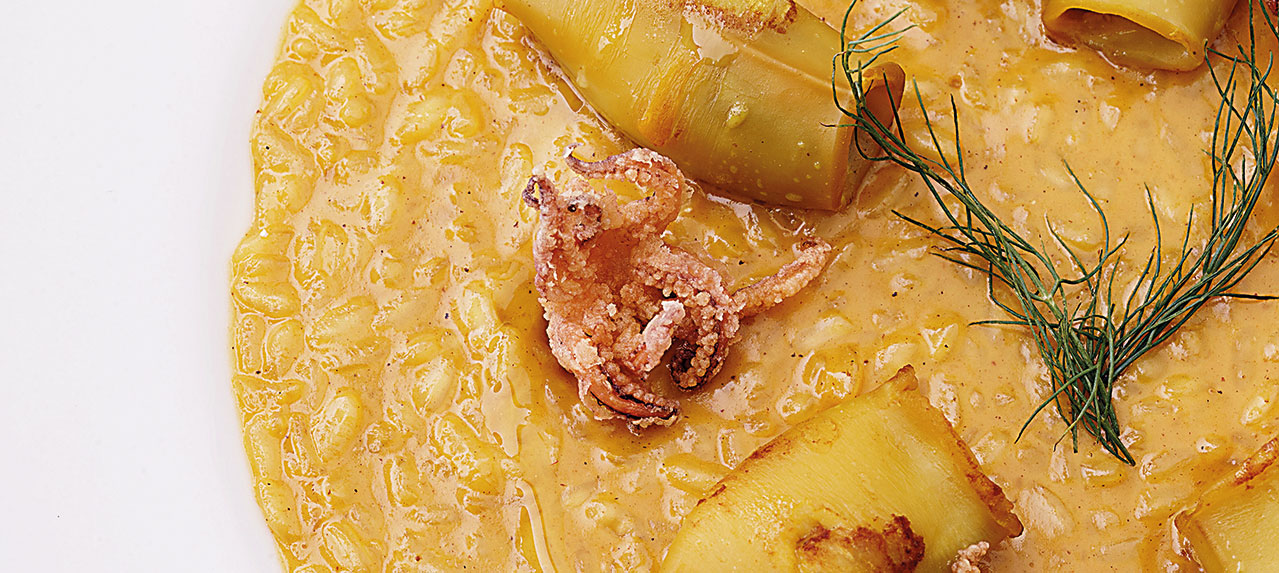 1 medium onion, very finely chopped
8 tbsp unsalted butter
2 cups Arborio rice, or short-grain Italian rice
1 cup dry white wine
6 cups homemade fish stock
½ tsp saffron threads
5 fresh baby calamari with heads
1 cup finely grated parmesan
Salt and freshly ground black pepper to taste
1. Fry the onion in 2 tbsp of the butter over medium heat until translucent.
2. Stir in the rice and cook over medium heat for about 3 minutes.
3. Add ½ cup wine, 2 cups of the fish stock, and the saffron. Turn the heat to high until the stock comes to a simmer and then adjust the heat to maintain a steady simmer.
4. Cook until most of the liquid has been absorbed, stirring. Add another cup of stock and keep cooking, stirring, and adding stock until the rice is al dente but not raw or grainy in the middle.
5. When the rice is ready, turn off the heat, stir in the cheese and the remaining butter, season
with salt and pepper.
6. Fry the calamari with 2 tablespoons of butter over medium heat for 5 minutes. Add the remaining wine.
7. Cover the calamari on low heat for about 15 minutes, then serve.