FIVE MINUTES WITH SALLY HURST
 American chef and storyteller
Tell us about your experience
I am an American chef and food writer. After attending the French Culinary Institute in New York City,  I gained experience in some of America's most prestigious kitchens before moving to London where I became a private chef and contributed to NBC's Today Show and Travel & Leisure Magazine. I lived for five years in Beirut where I created menus for several new restaurants and was proprietor of The Pantry Beirut. I was the Project Manager of Empowering Women Through Cooking Lebanon which was recently launched and I am working on my own cookbook.
What is your earliest memory of food?
On Christmas Eve I'd just turned 3, while the adults ate their festive dinner in the dining room, I sat by the Christmas tree shaking my presents to try to figure out what I was getting and ate the entire (huge) platter of shrimp cocktail that had been left on the coffee table. It is part of our Christmas Eve tradition to serve shrimp cocktail, it is engraved in my memory.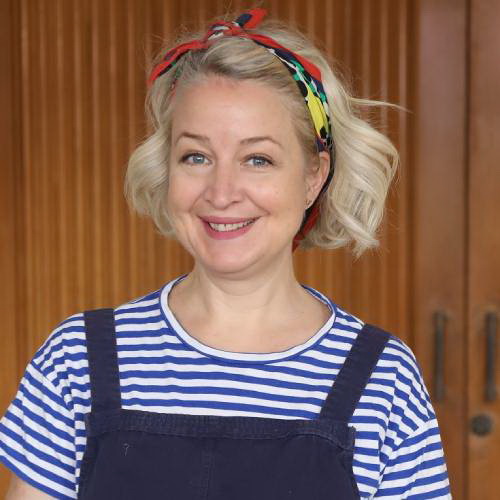 What is your signature dish?
I left this to last, but still couldn't come up with one! I'm not wedded to any one dish or even style of cooking but I do make a terrific lasagna and think my lavender honey ice cream is pretty special.
What are your favorite ingredients to work with?
I'm continuously inspired by the beautiful ingredients of the Mediterranean. The flavors of Lebanon will always be with me no matter where I go. I've got stockpiles of good quality tahini and zaatar and sumac and freekeh and mahleb! They're incredibly versatile and flavorful and I enjoy using them all in unexpected, unconventional ways.
Can you share any of your culinary secrets with our home cooker?
Keep your knives sharp and be organized! But most of all have fun. Cooking should be fun and I think we sometimes get bogged down in the everyday-ness of it and forget to play.
How do you describe your overall cooking philosophy?
Because I grew up traveling all over the world, I think I've been given a unique gift of looking at culture and food from the outside and taking ingredients and traditional dishes and applying them to my own way of cooking. Wherever I am I try to emphasize the local and highlight the best of that. Much like me, my recipes come from everywhere!