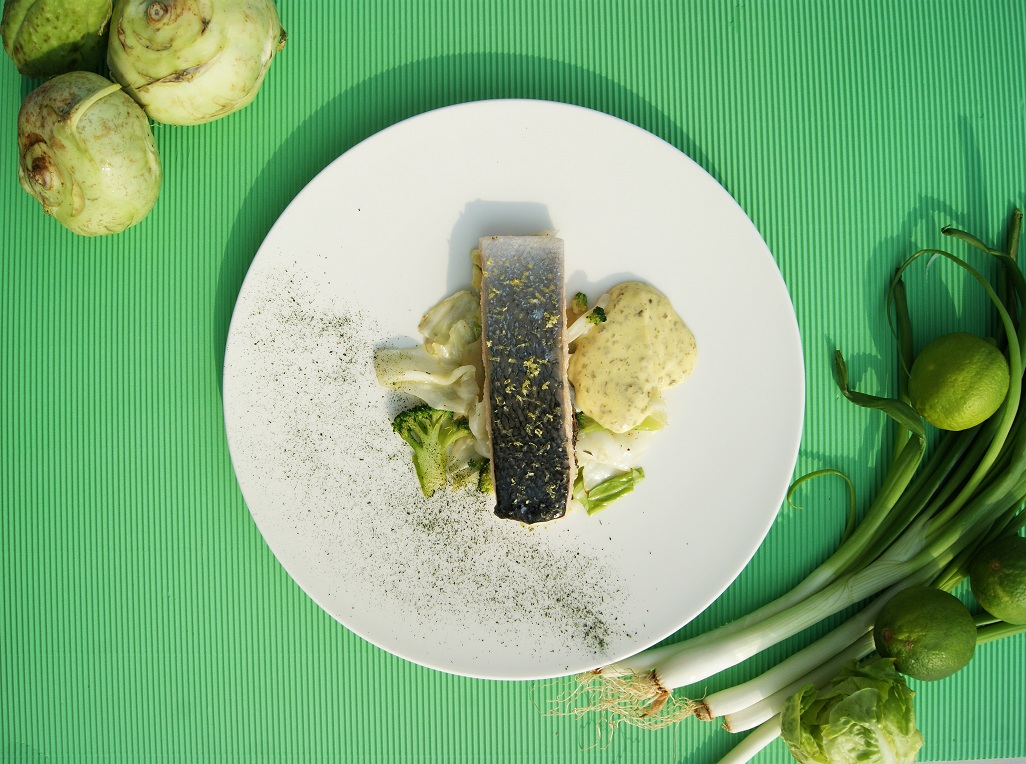 4 slices of fresh salmon with skin (170 g each)
200g Romanesco or broccoli
200g turnip cabbage
200g white cabbage
30g butter
Olive oil
Fresh thyme sprigs
3 cloves garlic
Béarnaise sauce
3g dry tarragon
3g peppercorns
50ml white wine
40g shallots
Wash, peel and cut the turnip cabbage and Romanesco in thin slices, and the white cabbage in large squares.
For the Béarnaise sauce, make a reduction with cut shallots, dry tarragon, peppercorns and the vinegar/wine mix.
Once reduced, make a sabayon (similar to a hollandaise sauce) with 2 egg yolks and add it to the reduction; then add 200 g clarified butter.
Heat the pan with olive oil, thyme sprigs and garlic, at 56°C and then place the salmon slices in the pan.
In a Tefal frying pan, heat a little olive oil then add the three types of cabbage.
Stir and add a little water and butter and cook through without coloring and with a light crunch. Season.
Pat dry the salmon, then plate the green vegetables in the center of the plate; add the salmon with a little lemon zest on top, and a spoonful of Béarnaise sauce on the side.
Chef's Tip
SERVE WITH WHITE WINE FOR THE BEARNAISE; MAKE THE SABAYON AT THE END.