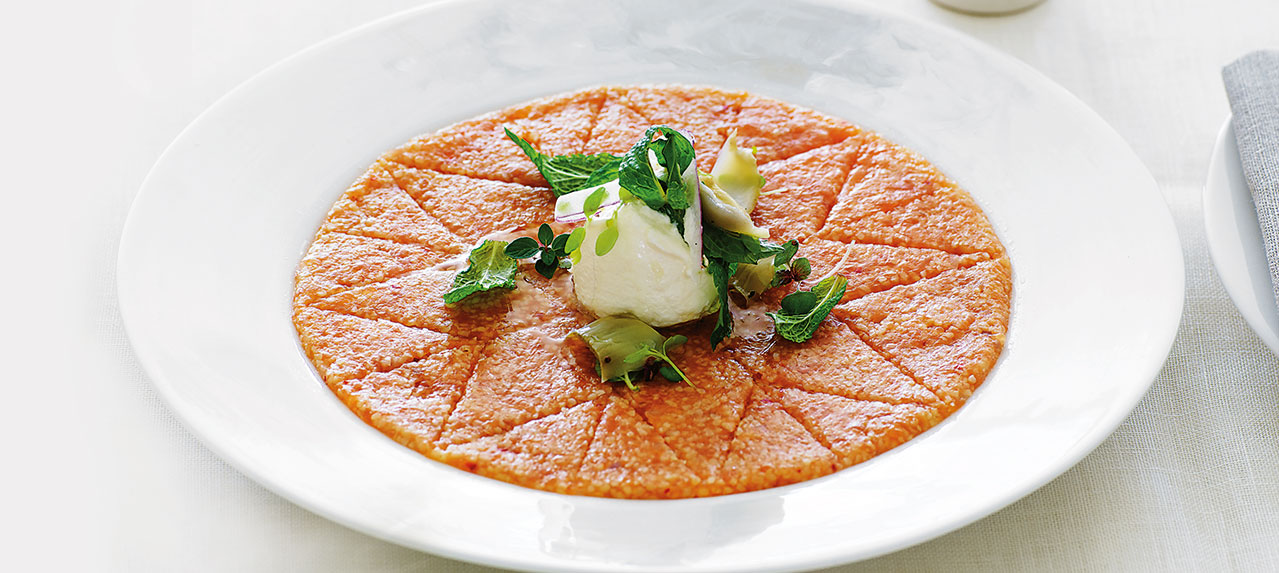 • 400g Scottish organic salmon, skinned, bloodline removed, finely minced and chilled
• 2 finely chopped shallots
• 1/3 cup bulgur, (cracked wheat) white, fine grade, soaked for 8 minutes in ½ cup water, then squeezed dry
• 1/3 tsp ground allspice
• 3 very small bullet chili, deseeded and finely chopped
• Freshly milled white pepper
• Sea salt
• 60ml Extra Virgin olive oil
• 2 blocks of ice
• Mixed small salad leaves (purslane, za'atar, marche, parsley leaves)
• Juice of one lemon
• Arabic bread
• Pickled turnips
1. Chill a stainless steel bowl.
2. Mix together the minced salmon, shallots, cracked wheat, allspice, white pepper, chili, sea salt, and 30ml Extra Virgin olive oil with the ice.
3. Check seasoning and adjust with extra chili and salt if needed. Remove the ice.
4. To serve, spoon the kibbeh onto a flat dish and spread out with a wet spatula to an even thickness.
5. Place a small mound of salad on top dressed with 2 tablespoons Extra Virgin olive oil, salt and pepper. Drizzle the remaining oil around the salmon.
6. Serve with labneh, Arabic bread, Extra Virgin olive oil and pickled turnips.