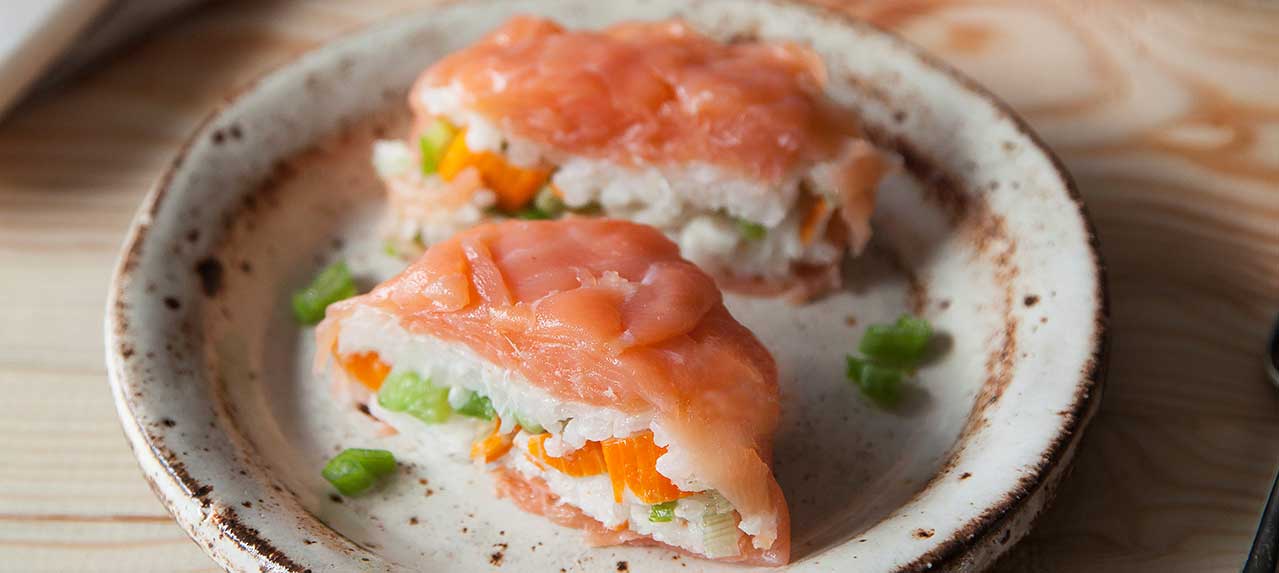 500 gr smoked salmon
3 cup short grained or Italian risotto rice
2 tablespoons white vinegar
2 tablespoons sugar
150 gr crab meat (you can add anything you like fresh tuna, salmon etc.)
4 to 5 cucumbers, diced (cut into small cubes)
3 avocados, diced (cut into small cubes)
2 green onions, very finely chopped
Salt to taste
1. Boil 3 cups of water, add vinegar, sugar and rice. Boil on low heat till cooked through. Spread cooked rice on a tray to cool completely.
2. Cover chosen pan (25 cm round pan) with plastic wrap, folding the sides of the pan as well.
3. Separate salmon slices and cover bottom and sides of pan, placing slices tightly together to cover the surface completely.
4. Prepare the filling: Mix crab meat, cucumbers, avocados and green onion in bowl and season with salt.
5. Divide rice in 3 portions.
6. Place 1 portion of the rice over salmon in pan. Add ½ of filling. Repeat layering rice and filling finishing with rice, cover with last layer of salmon.
7. Wrap completely with plastic sheet and refrigerate 4 hrs to overnight.
8. Unwrap galette and turn upside down onto a serving dish. Remove plastic wrap.
9. Serve with soya sauce and teriyaki sauce on the side.