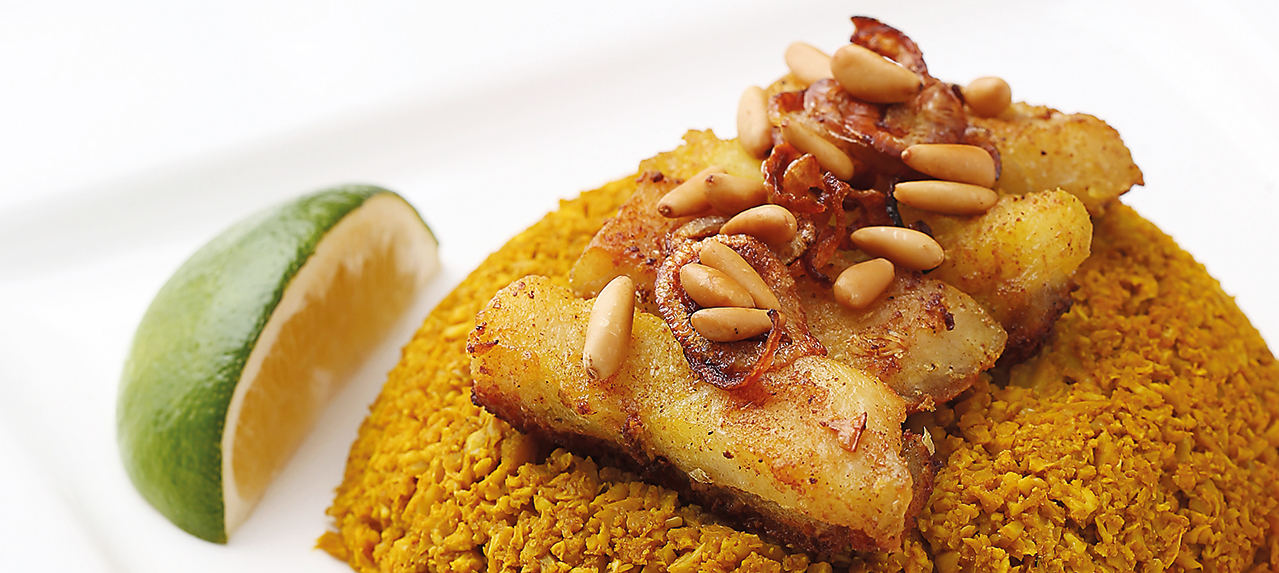 Cauliflower Rice
1 medium cauliflower
2/3 cup water
4 tbsp turmeric
3 ½ tbsp cumin
2 tbsp onion powder
Salt and black pepper to taste
Fish
1 kg white fish fillet (fresh or frozen)
4 tbsp lemon juice
Some olive oil to rub across the fish
Fish seasoning: white pepper, black pepper, garlic powder, onion powder, cinnamon, nutmeg, cumin, turmeric, sea salt
2-3 medium sized onions for garnish
Some macadamia oil or coconut oil
to fry onions
Pine nuts for garnish
1. Clean the cauliflower and chop it up into medium sized florets. Place several florets in the processor and pulse until they become small. Repeat with the rest of the florets.
2. Transfer the cauliflower, turmeric, cumin, onion powder, salt and black pepper to a saucepan and pour the water on top. Cook over medium heat for around 25-30 minutes, stirring occasionally.
3. After cleaning the fish (or thawing if frozen) chop it up into small to medium sized pieces.
4. In a small bowl, mix the lemon juice, some olive oil and all the seasonings. Dip each piece of fish in the mixture until it's nicely covered.
5. Transfer the fish pieces to a baking dish. Preheat oven to 180°C. Bake the fish pieces for 25 to 30 minutes.
6. Toast the pine nuts in a small saucepan, and caramelize the chopped onions by frying them in a generous amount of macadamia oil or coconut oil.
7. Top the cauliflower rice with the fish pieces and garnish them with the onions and toasted pine nuts. You can serve this dish with some tahini yogurt.