SEA-BREAM AND SALSA VERDE
Serves 6 persons | Preparation time 15 mins Cooking time 10 mins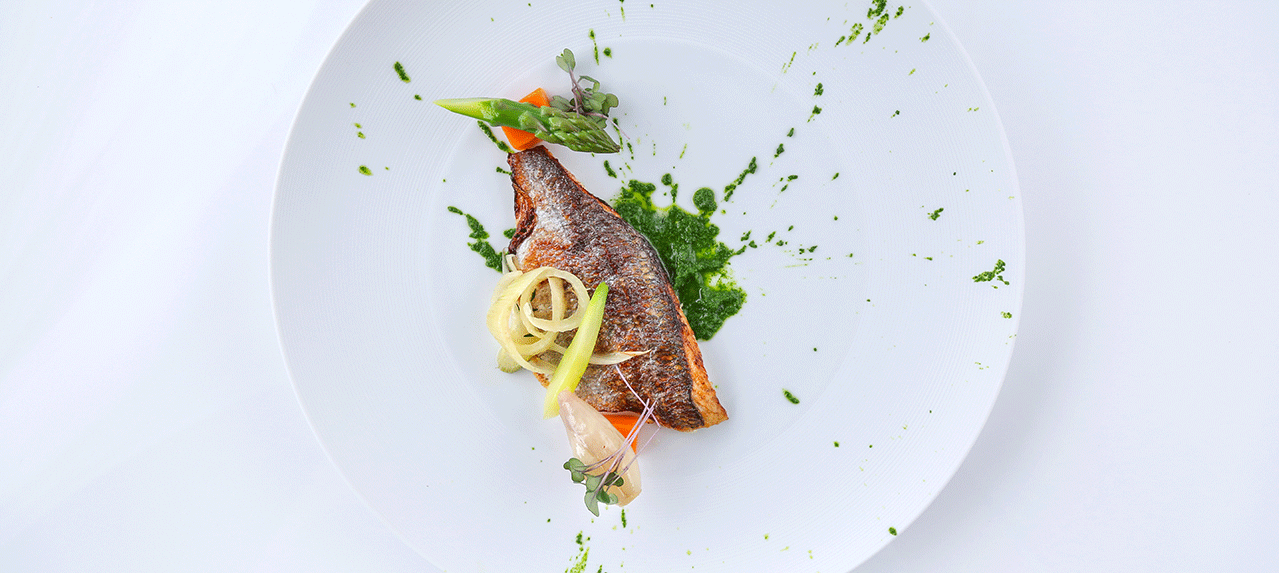 600g Sea-bream
100g lemon confit
5g fresh thyme
10g chopped garlic
5g fresh jalapeno or chili
200g fresh Fennel
160ml olive oil
50g chopped tarragon
200g blanched spinach
100g blanched mint
100g blanched parsley
100g blanched basil
100g blanched coriander
50g grilled onion
20g grilled garlic
20g honey
50g cherry vinegar
Salt and black pepper corn
200g carrots
200g asparagus
40g Butter
10g sugar
1. Use a blender or wand mixer. Combine the preserved lemon, thyme, garlic, and sunflower oil and whirl until you have a homogenous purée.
2. Marinate the fish in lemon confit marination for 2 hours.
3. Heat the oil in the pan, avoid letting it get too hot.
4. Place the fish in the pan and gently brown on both sides.
5. Add the butter and baste the fish creating a beurre noisette, Season.
6. Place in the oven for 3-5 minutes.
7. Gently peel the carrots and asparagus, boil for 8 minutes in a salty water. Strain and set aside.
8. Using a frying pan, sautéed the vegetables with butter for 10 minutes then add the sugar and finally finish with salt pepper corn and chopped mint.
9. Heat the oil in a small pot, and seared the fennel.
10. Add the butter to the pot along with the vegetable stock.
11. Cook gently & season with salt & pepper and finish with chopped tarragon.
12. Puree all the herbs ingredients in processor. Transfer to bowl. (Cover and let stand at room temperature).
13. Dress the fish in the middle of a deep plate, add the braised fennel on top and finish with salsa Verde.