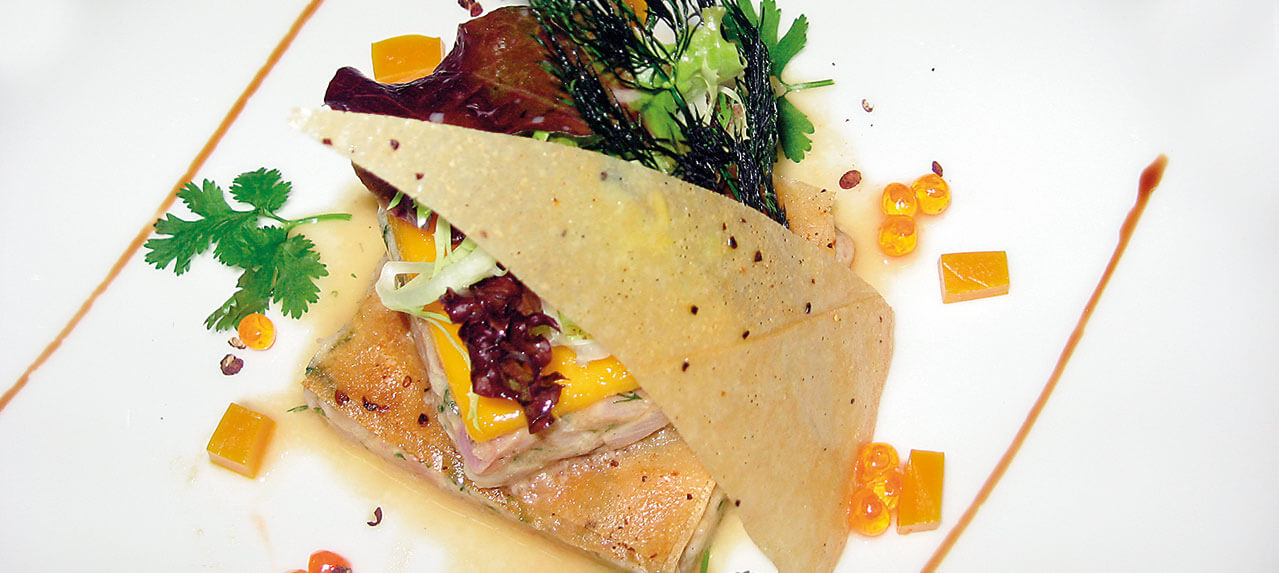 340g Gilthead sea bream
10g chopped shallot
1 bunch of chopped dill, plus garnish
80ml lime juice
20ml soya sauce
10ml Tabasco
50ml olive oil
1 bunch of cilantro
1 sheet of Filo pastry
2g Espelette chili pepper
60g curly salad leaves
10g red Batavia lettuce
5g salmon eggs
40g diced preserved lemon
80g mango
A leaf of gelatin
20ml balsamic cream
1. Cut the sea bream.
2. In a bowl, combine shallot, dill, chopped cilantro, lime juice, olive oil, soya sauce and Tabasco.
3. With a large stainless steel square cake ring, cut 2 layers of filo pastry sheet bound with a bit of egg yolk, brush a little clarified butter over with a touch of Espelette chili pepper on top and heat in oven between two buttered sheets of paper at 180°C until the desired color.
4. With a small stainless steel square cake ring, cut a slice of mango about 4 mm thick.
5. Cut a triangle of filo pastry sheet with clarified butter to gain some height in decoration and heat in oven with the cake ring.
6. Mix bream with ¾ of the bowl's juice.
7. Place the first tartare in the large square; add the filo pastry sheet then place the rest of the tartare in the cake ring and add sliced mango.
8. Season the mesclun with a little bit of lime juice and carefully place on the last stainless steel serving square.
9. Add the filo sheet triangle, the jelly mango cubes, the preserved lemon cubes, the cilantro and the salmon eggs.
10. Trace two lines of balsamic cream on the edge of the plate.