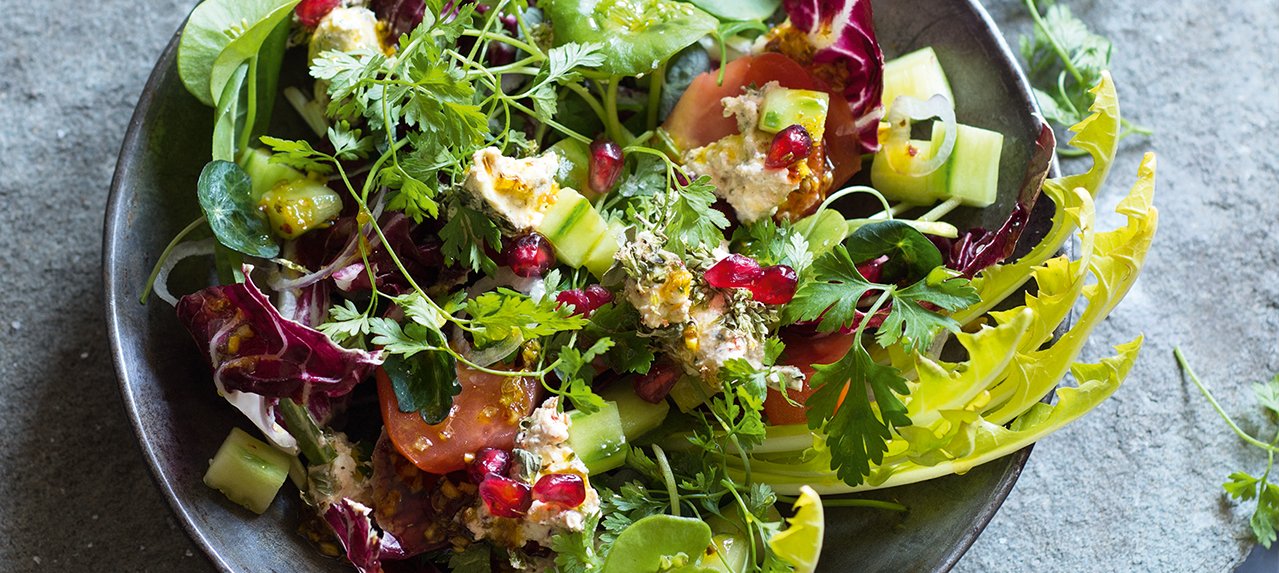 • 30 ml saffron vinaigrette
• 3 medium vine-ripened tomatoes, chopped
• ½ small red onion, finely sliced
• 2 handfuls roughly torn bitter leaves (rocket, radicchio, watercress or endive)
• ½ cup flat-leaf parsley leaves
• ½ cup purslane leaves
• 1 tbsp roughly torn oregano leaves
• Salt and freshly ground black pepper
• 1⁄3 cup pomegranate seeds
• 1 ball home-made shankleesh, broken into small pieces, or use 80g of a good commercial one
• 1 Lebanese (short) cucumber, peeled and
cut into small chunks
Saffron vinaigrette
• 1 tsp honey
• 10 – 15 saffron threads
• 2 tbsp white wine vinegar
• 1 tbsp white wine
• 2 spring onions, very finely diced
• A big pinch red chili flakes
• 1 sprig thyme, leaves only
• 1 clove garlic crushed to a paste
with ½ tsp salt
1. For the vinaigrette combine saffron, vinegar, wine and honey in a small saucepan. Heat gently until the honey has dissolved, add the spring onion, garlic, chili flakes and thyme. Pour into a jar and leave to cool.
2. Combine the cucumber, tomatoes, onion, leaves and herbs in a large mixing bowl. Season lightly and add the pomegranate seeds.
3. Add enough vinaigrette to coat lightly and mix everything together very gently. Crumble the shankleesh over the top of the salad and serve.