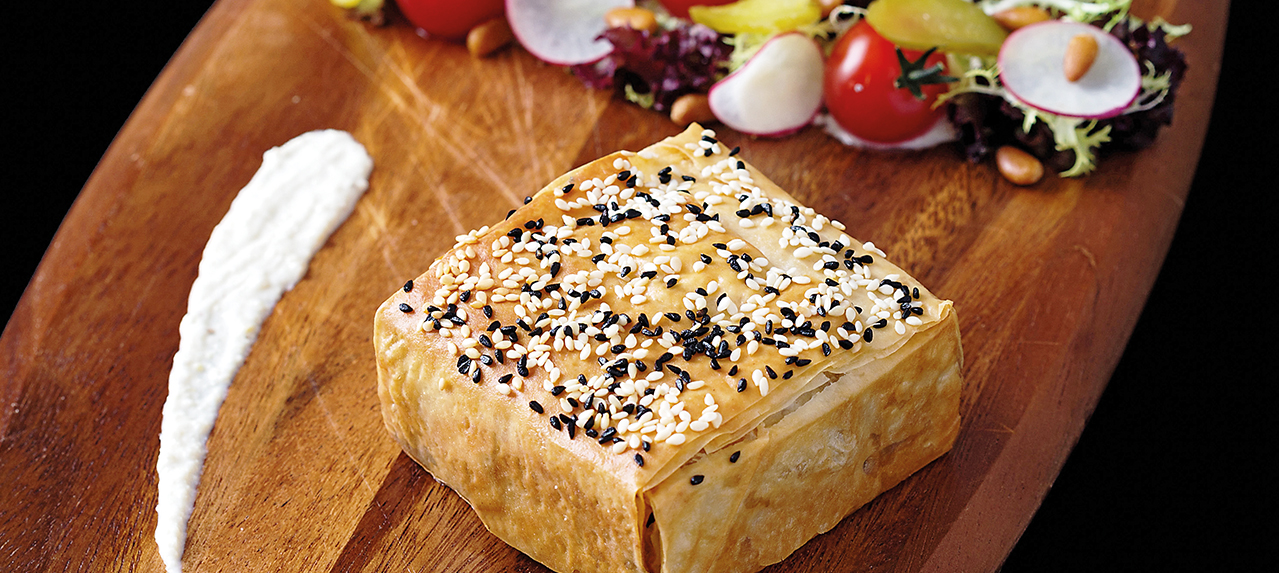 Duck shawarma marinade
• 1 whole duck
• 3 oranges, zested
• 750ml orange juice
• 5g oregano
• 25g shawarma spices
• 3g cardamom powder
• 7g coriander powder
• 20g salt
• 2g mastic
• 75ml olive oil
• 75ml sunflower oil
• 100g white vinegar
• 100g red vinegar
• 75g onion
• 15g garlic
• 250g onion wings
• 50g lamb fat
Pine nut tarator
• 300g pine nuts
• 2 garlic cloves
• 2 lemons for juice
• 3 slices bread (pain de mie)
• Water
• Salt
Dough
• Filo pastry dough
• Clarified butter
• Black and white sesame seeds
1. For the tarator, mix all of the ingredients together and adjust the texture with water (for a more liquid texture, add more water).
2. To prepare the duck, mix all of the ingredients and marinate the duck for at least 12 hours; bake in a pre-heated oven at 220°C for around 20 minutes.
3. Once baked, shred the duck. In a sauce pan, place the lamb fat and the onion wings; stir until tender and bright (shiny). Add the shredded duck and mix well with a spoon.
4. On a counter table, spread a sheet of filo pastry. Brush with clarified butter. Then place another
sheet on top.
5. Cut the dough into rectangular pieces. Place the layer in a cooking mould, then add another layer (repeat above process) making sure that the mould is well covered by the pastry layers from all sides.Make sure you have extra inches of the pastry coming out of the mould (to be used as a cover once the filling is in place).
6. Brush the bottom and sides of the filo with clarified butter. Fill the pastry dough with shredded duck filling and soak with the pine nut tarator. Use leftover pastry to cover the filling; brush with clarified butter.
7. Spread some sesame seeds on top. Bake at 180°C heated oven until golden. Serve with salad, pickles and
pine nut tarator.