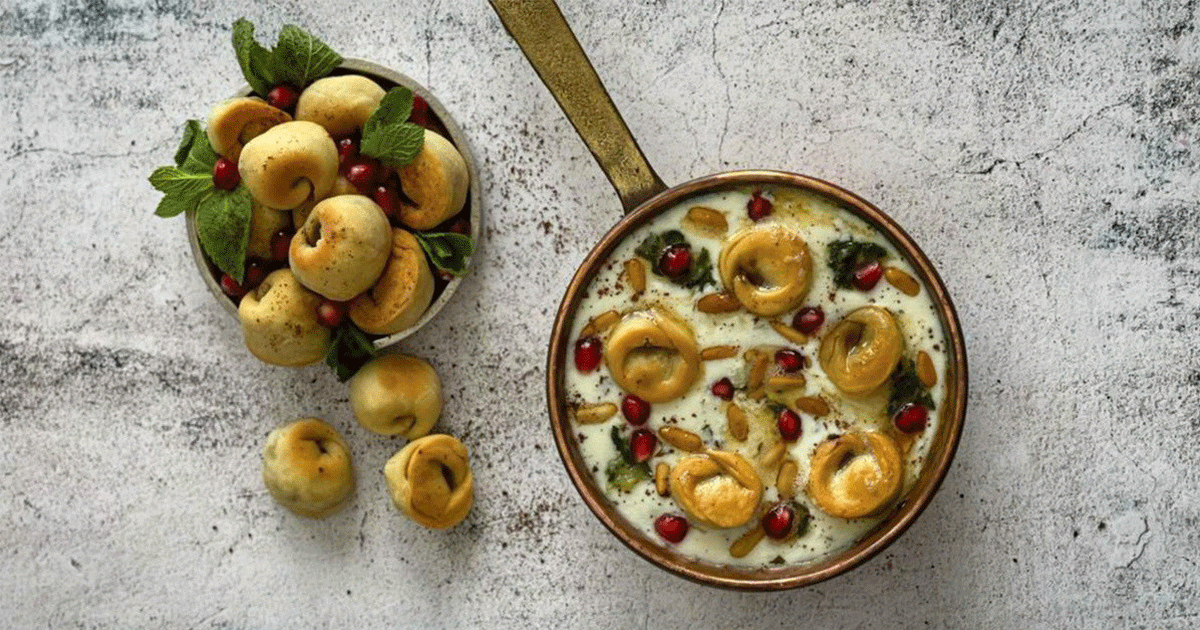 The dough (around 60 small Shish Barak)
1 1/4 cup flour
1/2 cup water
The filling
200 g minced meat
1 medium onion, chopped
2 tbsp. veg. oil
1/2 tsp 7 spices
1/2 tsp cinnamon
1 tbsp. sumac
Salt to taste
The yogurt
1000 g yogurt
2 tbsp. corn flour
1 cup mint leaves, chopped
5 garlic cloves, minced
1 tbsp. oil
1 tbsp. butter
Salt
For garnish
Mix all the dough ingredients together. Form a ball and with a cling film and a towel. Let it rest for around 1-2 hrs.
Meanwhile, sauté the onions with 2 tbsp. of olive oil.
Add the minced meat, keep on cooking until the meat turns brown.
Add the spices, and keep aside until it cools down.
When the dough is ready, turn out onto a lightly floured surface and gently knead 1 or 2 times before using. Flatten the dough and cut into small disks.
Place the meat into each of the pieces of dough and fold it in the middle, then join the two extremities together (to get a hat like Shish Barak).
Place the shish barak for around 20 minutes in the preheated oven until they turn golden brown.
Meanwhile prepare the yogurt, by blending it using a hand blender.
Mix the corn flour with a bit of water, add it to the yogurt and mix well over medium heat, until the yogurt thickens (custard consistency).
In a small pan, heat oil, sauté chopped mint & garlic for few seconds. Add them to the yogurt.
Sauté pine nuts with a bit of butter in another pan and set aside.
Pour the yogurt into bowls or dishes, and add the shish barak, top it with sautéed pine nuts.
The shish barak can be served with or without vermicelli rice.