SHRIMP IN GREEN CURRY SAUCE
Serves 10 | Prep/cooking 1 hour 30min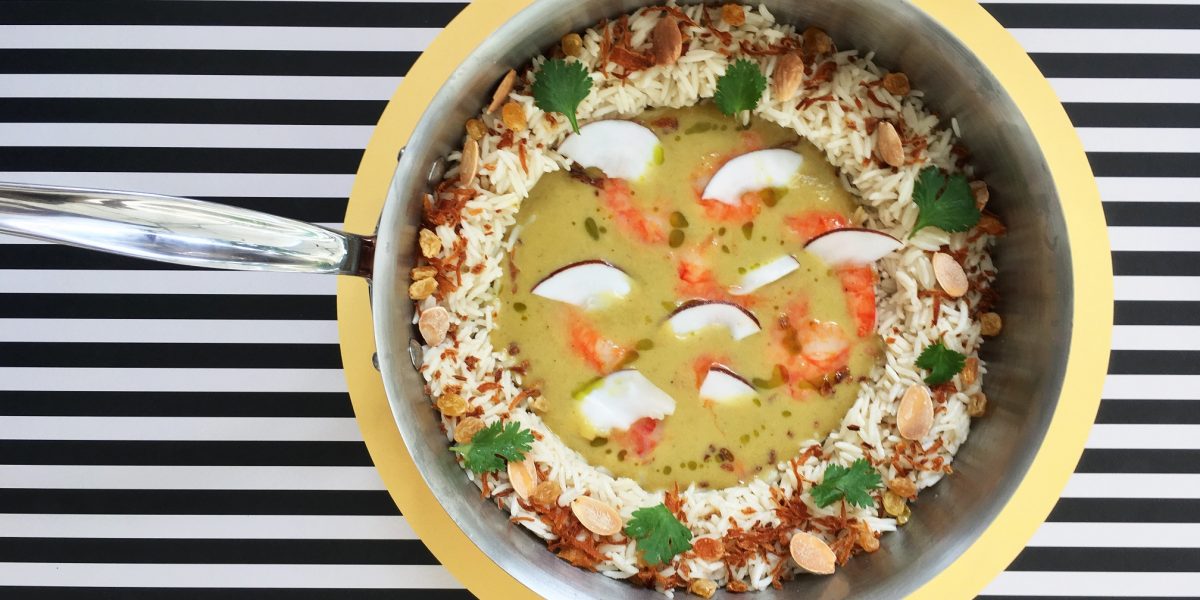 3000g lemongrass infused Basmati rice
Coriander leaves
Roasted almonds
French thyme leaves to garnish
Dry raisins to garnish
Fried onion to garnish
2200g shrimp with green curry sauce
Curry Sauce                                                                                                       
200g diced onion
50ml vegetable oil
185g green bell pepper Julienne
195g diced eggplant
75g milled green curry paste
25g yellow curry paste
100g spinach leaves
50g dehydrated chicken stock
1250ml water
135g mango chutney
100ml fish sauce
100g spinach leaves
8g mint chiffonade
6g basil chiffonade
3g lime zest
300ml coconut milk
40g corn flour
1kg cooked shrimps
Place the basmati all around the platter, then the shrimp curry sauce in the center.
Garnish with coriander leaves, roasted almonds, dry raisins and fried onion.
For the shrimps with curry sauce
Sauté the onions, with vegetable oil, then add green bell pepper and eggplant.
Add green and yellow curry paste, spinach leaves, chicken stock, water and mango chutney, and cook for 45 mins.
Add fish sauce and blend using the hand held blender.
Add the spinach leaves, mint, basil, lime zest and coconut milk. Thicken with corn flour.
Add the cooked shrimps, stir for 1 min and take off heat.
OTHER RECIPES BY MAROUN CHEDID