Serves 1 | Prep. Time 15 mins | Cooking Time 20 mins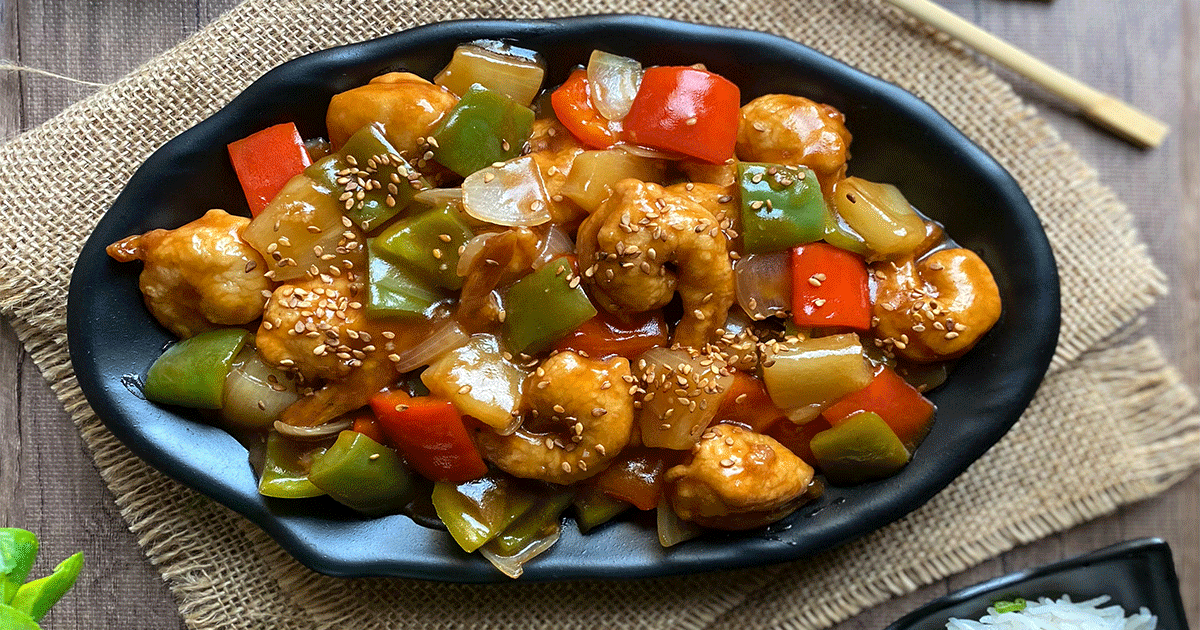 500 g shrimp, peeled and deveined
1 small red bell pepper, cut into cubes
1 small green bell pepper, cut into cubes
1 onion, cut into cubes
225 g canned pineapple chunks
2 tbsp. vegetable oil
Black pepper & salt to taste
Sesame seeds for garnish
Batter
1/3 cup flour
3 tbsp. cornstarch
1/2 cup water
1 tbsp. sesame oil
Sauce
1 tbsp. rice vinegar
1/2 cup pineapple juice (reserved from the can)
1/4 cup ketchup
2 tbsp. soy sauce
2 garlic cloves minced
1 tbsp. sugar
 Stir all sauce ingredients together and set aside.
Season shrimp with black pepper and salt.
Combine batter ingredients and mix until smooth.
Dip shrimp in batter and directly deep fry in hot oil until golden and crispy.
Transfer to a plate lined with paper towel to drain off excess oil.
In a large wok heat vegetable oil and stir fry onion, red and green pepper for 1 min.
Add pineapple and sauce. Stir over medium heat until it starts boiling.
Add shrimp to the wok and toss to combine. Leave over medium heat for 1 min until the sauce thickens.
Garnish with sesame seeds and serve immediately.
OTHER RECIPES BY FARAH'S CUISINE