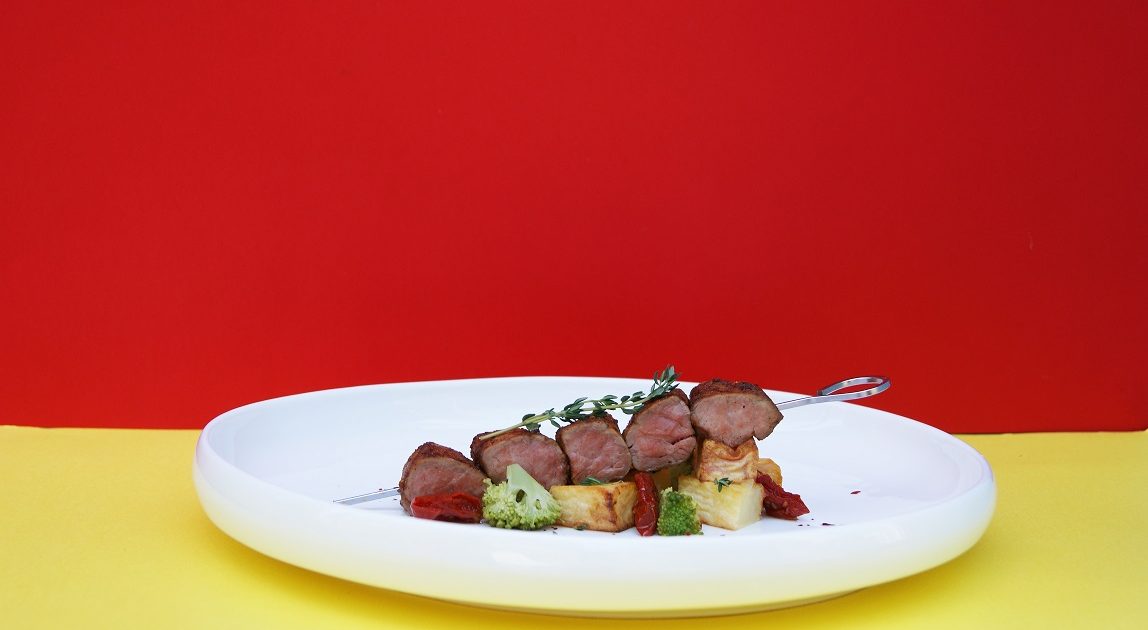 600g smoked beef brochette
10g baby veal fillet
30g bbq spices
40g liquid smoked sauce
5ml sunflower oil
1g salt
1g white pepper
200g potato
200g broccoli
8g fresh thyme
4g red pepper flakes
100g olive oil
Cut the veal fillet into 2-cm cubes.
In a large bowl, whisk together the BBQ spices, liquid smoked sauce, sunflower oil, salt and pepper.
Add the veal cubes and mix all the ingredients together with your hands to make sure that each piece of meat is well coated. Refrigerate overnight.
Preheat the oven to 200˚C.
Wash and peel the potatoes and then cut them into small pieces.
Add olive oil, salt and pepper. Spread the potatoes out over a baking sheet, transfer to the oven and roast for 15 minutes.
Bring a pot of salted water to the boil. Cut the broccoli into small florets and add to the boiling water. Cook for 4 minutes until tender.
Once cooked, immediately place the broccoli in an ice bath to stop the cooking process.
Slide the marinated meat into skewers and grill over medium heat, turning often, until all sides are brown and tender.
To serve, place the vegetables in the middle of the serving plate, add the meat skewers and garnish with fresh thyme and red pepper flakes.
OTHER  RECIPES BY CHEF KAMIL BOULOOT