Bring an extra helping of sophistication to any table with the delicacy of smoked salmon. With its bright pink slices layered in a number of appealing patterns, it's a delicious source of protein and surprisingly, very versatile!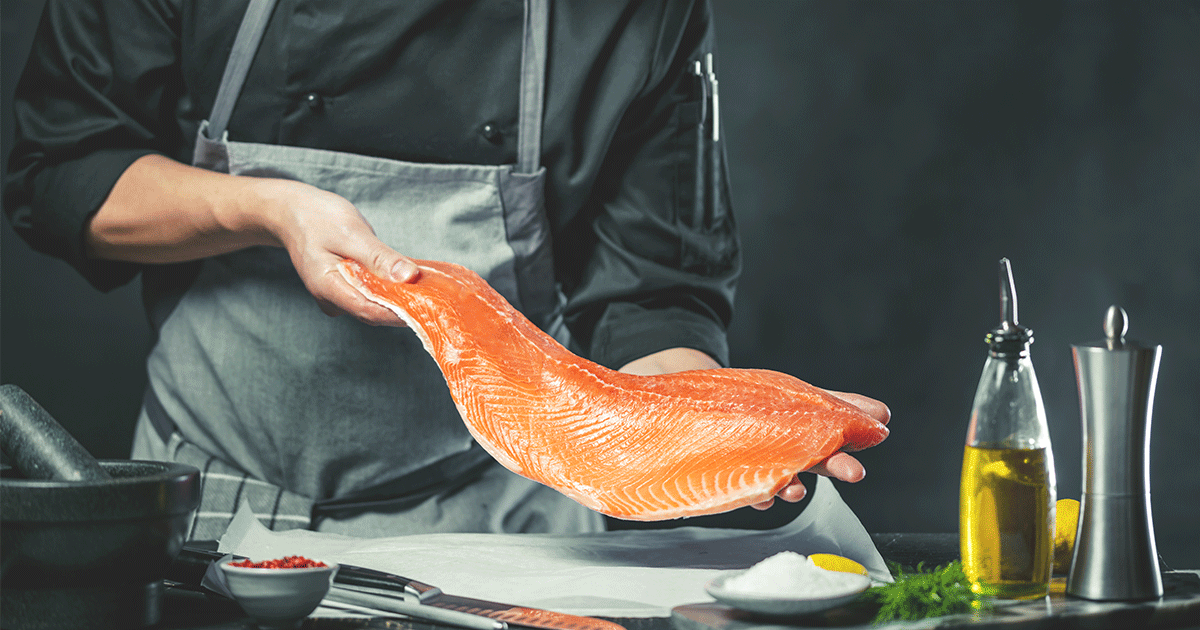 HOW TO CHOOSE
CRITERIA
• Origin: The flesh of salmon from Norway is firmer and less oily however, for authentic flavor, the best salmon comes from Scotland or Ireland.
• Production: The tastiest salmon is dry salted (not injected with brine) and smoked "cold" at 30°C with beech tree shavings. The Scots have a clever trick for smoking their salmon by using woodchips made from whiskey and brandy barrels.
• The presence of a label guarantees superior quality: A red label is awarded according to strict manufacture rules. An AB label certifies that the salmon was fed bio-based products, and the fillets were dry salted and smoked over untreated beech.
WHAT ABOUT THE COLOR?
A salmon's color mainly indicates the country of origin. If it's pink, it comes from Norway. The paler variety is from Scotland. The important thing to consider is that the color is uniform, since this indicates that the fish was well fed. Any pieces that are brown or dry at the edges should be discarded.
FRESH OR FROZEN?
Frozen salmon is available all year round but loses its structure and aroma when freezing. If the label says, "do not freeze" then the fish has been frozen, or just the opposite, if it says "guaranteed not frozen", then it is fresh.
WHAT ABOUT WILD SALMON?
This is a high quality salmon and as such, it is more expensive. Originating mainly in the Pacific, it is not fed with fishmeal, therefore much leaner. Atlantic salmon is renowned for its texture and flavor however, as a result of overfishing, this breed is no longer allowed to be caught. Organic salmon on the other hand, which is farmed not wild, is fed a diet of small fish and kept under conditions which allow for some exercise.
HOW TO STORE
If fresh (or thawed) and packaged
Keep in the refrigerator and abide by the use by date. When you want to serve, remove 4 to 5 hours in advance of consuming, wrap any leftovers in cling film and place in the cold compartment of the fridge. Eat within 2 to 3 days after opening.
If frozen and vacuum packed
Keep in the freezer respecting the use by date, which can range from 2 to 6 months.
HOW TO SERVE
Bread and toast
Place on top of warm blinis, whole meal bread, lightly buttered toast or American-style bagels.
Toppings
Cream cheese is best, especially spread over bagels or toast, as well as goat cheese, ricotta or mozzarella. Finely chopped shallots, a slice of red onion, a few capers, a little chopped dill or chives, a pinch of lumpfish roe or salmon eggs, a few delicate slices of lemon, or soy sauce and wasabi – pretty much anything works to enhance this fish's flavor.
SALMON SUPPLIERS
KUWAIT
KSA
https://www.asmak.me/
LEBANON
UAE
WINE TO ACCOMPANY
Try a dry and fruity white wine like a Bergerac from Bordeaux, a Loire Valley wine, a Riesling from Alsace or a dry Jurançon from the foothills of the Pyrenees.
LEFTOVERS
Your dinner party has ended and you've got smoked salmon left over! Here's ten quick and delicious ways to put it to good use.
1. Crumble and top a baked potato.
2. Toss with pasta and either Alfredo sauce or olive oil.
3. Make a smoked salmon taco with lettuce, tomatoes, salsa and onions.
4. Mix with cream cheese, a dash of Tabasco, lemon juice, salt and pepper to make a smoked salmon spread.
5. Cook until hard, chop into small cubes and use as croutons.
6. Toss into scrambled eggs.
7. Make a smoked salmon quiche.
8. Toss into a Caesar Salad.
9. Spread a soft cheese, such as Garlic Boursin, over French bread. Top with smoked salmon, red onions & capers.
10. Add to your favorite stuffing recipe and use to stuff mushroom caps, cherry tomatoes or white fish fillets.
OTHER ARTICLES YOU MAY LIKE