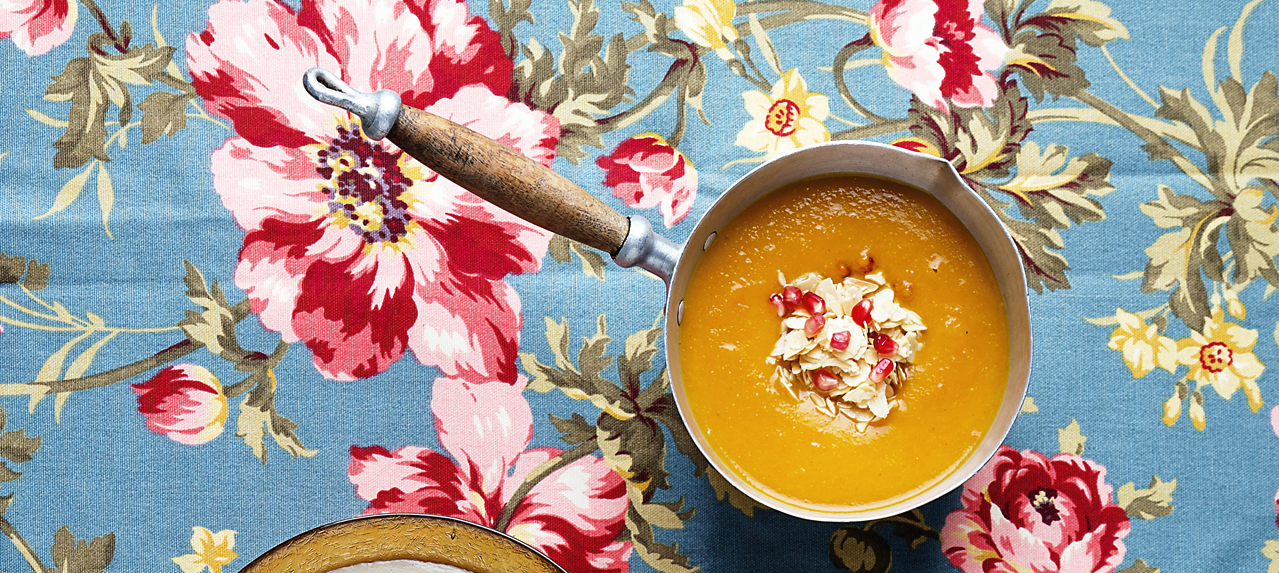 • 500g sweet potatoes, peeled and cut into chunks
• 300g carrots, peeled and cut into chunks
• 2 tbsp olive oil
• 3 tbsp vegetable oil
• 1 tsp chili
• 1 tsp paprika
• 2 onions, finely chopped
• 2 garlic cloves, crushed
• 1 L vegetable stock
• Salt and freshly ground black pepper, to taste
To serve
• 50g flaked almonds, toasted
• 20g pomegranate seeds
1. Preheat the oven to 220°C. Line a baking tray with parchment paper. Toss the sweet potatoes and carrots into a medium bowl with the olive oil. Season with salt and pepper. Place the vegetables on the prepared baking tray and roast for 25-30 minutes or until caramelized and tender.
2. In the meantime, heat the vegetable oil in a large pot over medium heat. Add the onion, chili, paprika and garlic. Sauté until the onions are translucent.
3. Add the vegetable stock. Season with salt and pepper. Bring to a boil. Once the roasted vegetable is done, leave to cool a little, and then transfer to the pot. Using a hand blender process until smooth.
4. To serve, ladle the soup into bowls and top with the almond flakes and pomegranate seeds.