SO MANY PASTA SHAPES, SO LITTLE TIME
We have narrowed your choices to five Italian eateries, for a quick and easy meal!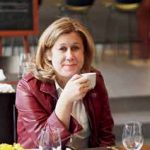 PENNE AI CARCCIOFFI
BY SOPHIE SCHOUCAIR, MARINELLA TRATTORIA
Serves 4
Prep/cooking 30 mins
• 500g penne
• 6 to 8 artichokes
• 500 ml cream
• 50g Parmesan cheese
• Thyme
• Salt and pepper, to taste
• Garlic, optional
Clean the artichokes to use only the hearts. It's very important to soak in a tub of water and lemon so they do not blacken.
Cut finely with a mandolin. In a skillet, heat the olive oil with garlic slivers (optional) and add the artichokes.
Sauté, then moisten with water to finish cooking. Flavor with fresh thyme and a little salt.
Cook for about 10 minutes. When al dente, keep some water aside.
Put cream in a deep skillet with grated Parmesan cheese, salt and pepper and add the cooked artichokes with lemon water. Check seasoning.
Cook the penne in salted water for 10 minutes.
Boil the cream with artichokes at the same time by adding the reserved pasta water (about 3 ladles or more depending on the thickness of the sauce).
Put directly into the sauce with some of the water. Check the seasoning. Serve hot topped with fresh thyme.

CONCHIGLIE PASTA ALLA CRUDAIOLA
BY MARIO HADDAD SR., MARIO E MARIO
Serves 2
Prep/cooking 10 mins
• 200g conchiglie pasta
• 80g fresh tomatoes
• 20g basil
• 1 clove garlic
• 60g zucchini
• 20g olives
• Salt & pepper
• Pinch of peperoncino
• 30g olive oil
• 40g Parmesan cheese
Choose good and ripe tomatoes. Cut the tomatoes and squeeze them with your hand to create a nice sauce; add a lot of basil shredded with your hands, salt and pepper and squeezed garlic diluted in three tablespoons of olive oil, you can also add some hot fresh peperoncino.
Put the sauce in a big container that can hold the pasta later, and keep refrigerated for at least two hours for the flavors to mix.
Boil the pasta al dente, and mix it with the sauce.
Add some grated Parmesan to taste, black pepper and serve.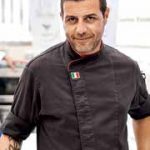 SPAGHETTI CON GAMBERI E SALSA AL POMODORO
BY CHEF ARMANDO CODISPOTI
Serves 4
Prep/cooking 30 mins
• 400g spaghetti
• 4 big tomatoes
• 12 cherry tomatoes
• 2 garlic cloves
• 8 fresh jumbo shrimp
• 10 basil leaves
• 30g salt
• 2/3 grounds of white pepper
• 40g extra virgin olive oil
Put a pasta pan on the fire and fill 3/4 of water and bring to boiling point, than add the salt.
Boil the pasta for around 12 minutes, stirring every 3 minutes.
Clean the shrimp removing the head and stomach and cut into same size pieces, let rest in the fridge.
Pre-heat a casserole and put half of the extra virgin olive oil (a hot pan uses less oil) and add in sequence; the chopped garlic, the tomatoes cut into cubes and a little pinch of salt.
Sauté for about 3 to 4 minutes and add the shrimp, cooking for about 2 more minutes.
Quarter the cherry tomatoes, pour the sauce inside and do the same after draining the pasta. Turn up the fire under the casserole, add the remaining extra virgin olive oil, basil leaves, white pepper and mix well.
GNOCCHI ALLA SORRENTINA
By NAPOLETANA
Serves 2
Prep/cooking 25 mins
• 360g gnocchi
• 300 ml tomato sauce
• 4g chopped basil
• 120g diced fresh mozzarella
• 30g grated Parmesan cheese
Put gnocchi in boiling water for 2-4 minutes. Cooked gnocchi will float to the top.
Heat the previously prepared tomato sauce. Add the chopped basil and diced mozzarella.
Add the gnocchi. Transfer into a ceramic baking dish.
Sprinkle with grated Parmesan. Place in the oven a few minutes till the cheese melts. Garnish with basil.
ORZO E QUINOA
BY GIUSEPPE PALUMBO
Serves 1
Prep/cooking 17 mins
• 150g red quinoa
• 50g risotto scotti (orzo)
• 50g tomatoes
• 50g cucumber
• 25g prunes
• 15g green olives
• 25g lemon juice
• 30g olive oil
Boil red quinoa for 13 minutes and the orzo for 8 minutes.
Dice the tomatoes, cucumber and prunes. Mix all with the lemon juice and olive oil. Season with salt and pepper to taste.
Optional: Top with a quarter of a pear poached in red wine.