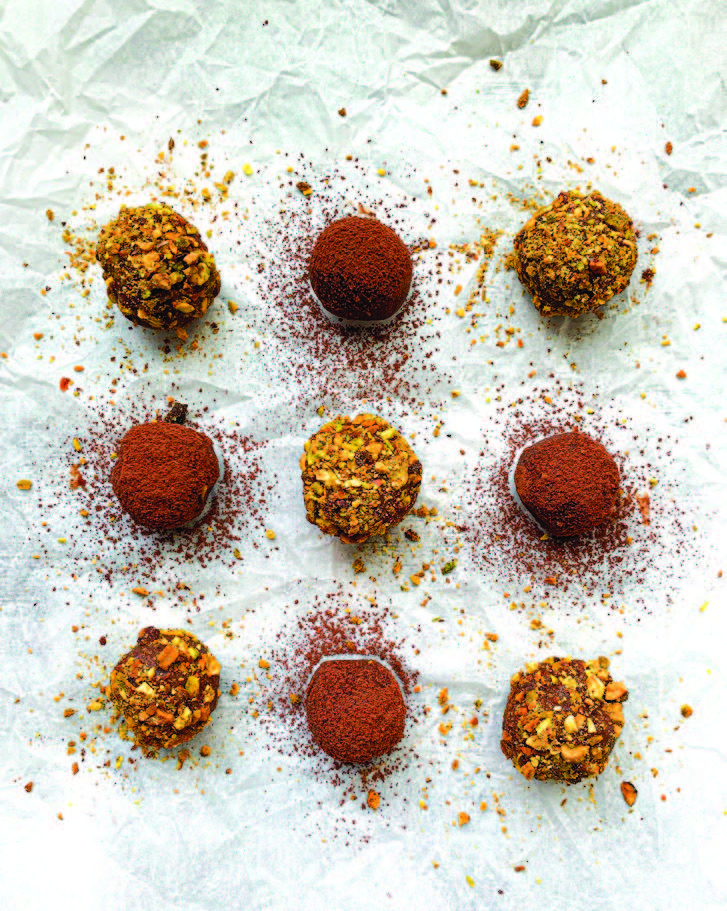 JIVARA GANACHE
400 g Jivara 40%
200 g whipping cream
20 g butter soft
10 g vanilla bean paste
0.4 g cloves powder
0,4 g ginger powder
ASSEMBLY AND FINISHING
QS truffle coating
QS cocoa powder
QS finely chopped pistachios
JIVARA GANACHE
Heat the whipping cream with all the spices in it until it simmers.
Melt chocolate while continuously mixing the chocolate with a spatula to avoid burning.
Pour in 1/3 at a time, while mixing in between. Then, mix in the butter and stir until smooth without any lumps.
Pour the ganache over a tray lined with plastic sheet.
Leave to crystallize until the ganache consistency is set enough to make piping with pastry bag possible.
TIP: Be careful not to work the ganache too cold as it would make the texture of truffles grainy.
ASSEMBLY AND FINISHING
Pipe into wanted shape and leave to crystallize for 24 to 36 hours at 17°C and 60% hygrometry.
First coat the truffles by hand with tempered Jivara couverture and roll in the desired coating.
Coating can be ground nuts, cocoa powder, coconut.