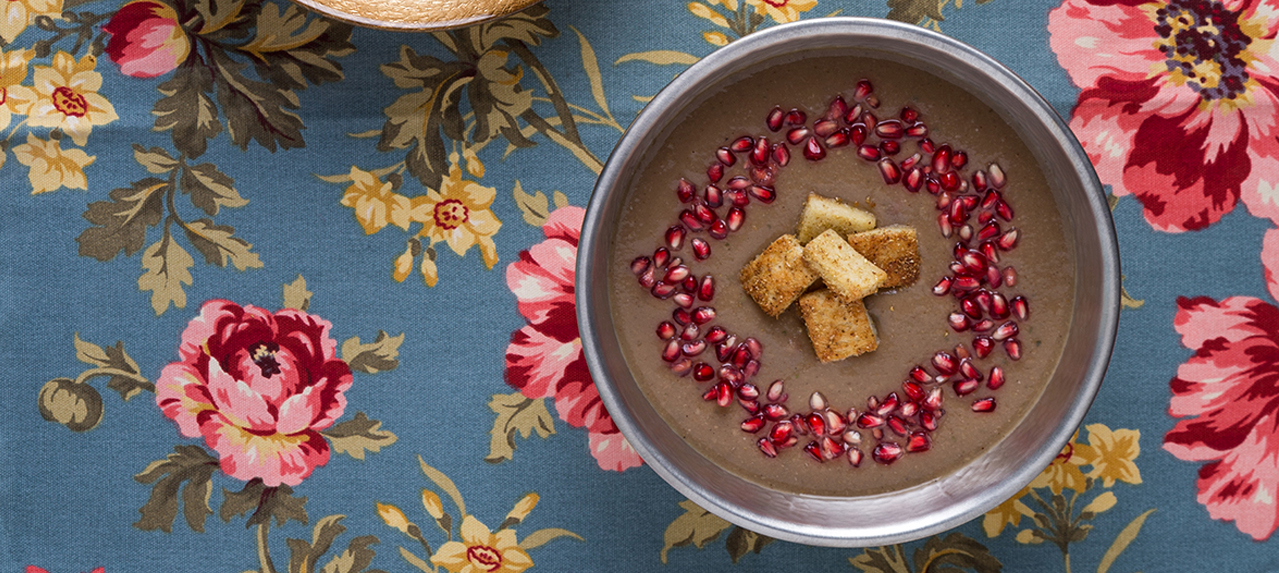 • 3 tbsp vegetable oil
• 1 onion, roughly chopped
• 3 garlic cloves, crushed
• 1 tsp chili flakes
• 1 tsp cinnamon
• 1 tsp all spice
• ½ tsp nutmeg
• ¾ tsp cloves
• ½ tsp coriander
• 1 ¼ tsp cumin
• 2 potatoes, peeled and coarsely chopped
• 500g dried chickpeas, soaked overnight
and drained
• 1 L vegetable stock
• Juice of 1 lemon
For the coriander and garlic croutons
• 3 tbsp olive oil
• 1 garlic, crushed
• 50g pomegranate seeds
• 1 tbsp fresh coriander, finely chopped
• 3 slices white bread, cut into 2cm cubes
1. Heat the vegetable oil in a large pot over medium heat. Add the onion and potato, fry, stirring occasionally, until their color changes slightly, about 20 minutes.
2. Add the garlic and spices. Sauté until the spices release their aroma, about 3 to 5 minutes. Add the chickpeas and vegetable stock.
3. Bring to the boil, lower the heat, cover and simmer about 30 minutes. Stir in the lemon juice. Remove from the heat. Process the soup until smooth using a hand blender or food processor. Season with salt and pepper, and set aside.
4. For the croutons, preheat the oven to 180°C. Line a tray with parchment paper. Toss the bread cubes, olive oil, coriander and garlic in a medium bowl. Make sure all the bread cubes are evenly coated with oil.
5. Spread the cubes on the baking tray and bake for 6 to 7 minutes, or until they are golden brown. To serve, ladle the soup into bowls and top with the croutons and pomegranate seeds.