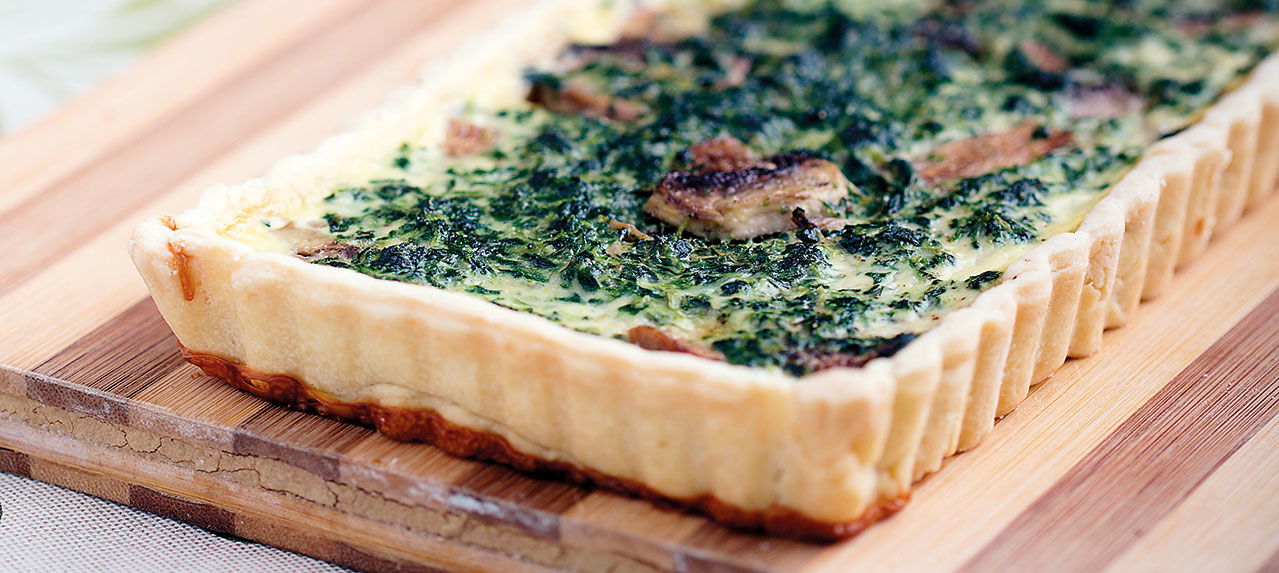 For the Filling
1 tbsp olive oil
150g sliced button mushrooms
100g baby spinach leaves, roughly chopped
3 eggs, beaten
200 ml heavy cream
150g shredded Gruyère cheese
Salt and freshly ground black pepper to taste
1. Preheat oven to 180°C.
2. Roll the pastry on a lightly floured surface, about 0.5cm in thickness, to fit in the tart tin. Press into fluted edges. Trim off excess piecrust along edges and chill in the fridge for 30 minutes.
3. Line piecrust with parchment paper, and fill with dried beans. Bake for 15 minutes.
4. Remove beans and parchment paper; bake 10 more minutes. Cool completely on baking sheet
on a wire rack.
5. In the meantime, in a large pan heat the olive oil. Add in the mushrooms and let them cook for 1 minute.
6. Add the spinach and cook for another 3 minutes or until the spinach has wilted. Remove from heat
and set aside.
7. In a small bowl, combine the eggs with the cream. Season with salt and freshly ground black pepper, to taste. Sprinkle the cheese onto the base of the pastry crust. Scatter over the vegetables
and pour over the cream mixture.
8. Bake at 180°C for 35 to 40 minutes or until set.
9. Cool tart on baking sheet on a wire rack for 15 minutes.