STEAK WITH GINGER PLUM BARBECUE SAUCE
BY U.S. MEAT EXPORT FEDERATION
Serves 4 | Prep/cooking 35 mins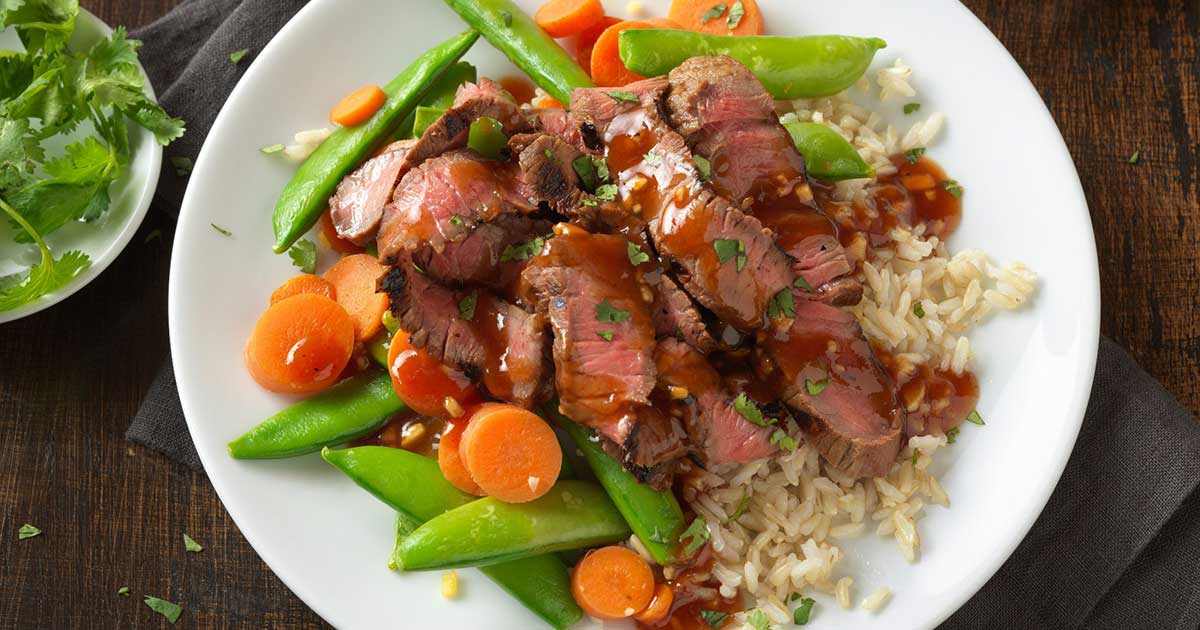 Photo: Courtesy of the Beef Checkoff
Nutrition information per serving
496 Calories; 9 Calories from fat; 9g Total Fat (2 g Saturated Fat; 4 g Monounsaturated Fat;) 61 mg Cholesterol; 531 mg Sodium; 66 g Total Carbohydrate; 6.2 g Dietary Fiber; 36 g Protein; 6.9 mg Iron; 8.4 mg Niacin; 0.8 mg Vitamin B6; 1.5 mcg Vitamin B12; 6.1 mg Zinc; 43 mcg Selenium.
1 U.S. beef Top Round Steak, cut 3/4 inch (1.90 cm) thick (about 453.60g)
1 tbsp vegetable oil
2 cups thinly sliced carrots
3 cups fresh pea pods, strings removed
1 clove garlic, minced
Salt and black pepper
3 cups hot cooked jasmine rice, prepared without butter or salt
Chopped fresh cilantro
1/2 cup prepared plum sauce
2 tbsp minced fresh ginger
2 tbsp fresh lemon juice
2 tbsp soy sauce
2 tbsp ketchup
1 tbsp minced garlic
1 tbsp brown sugar
1/4 tsp ground red pepper
After a soak in a tenderizing marinade of plum sauce, ginger and lemon juice, U.S. Top Round Steak is grilled and served with stir-fried veggies and rice.
1. Combine marinade ingredients in small bowl.
2. Place beef steak and 1/2 cup marinade in food-safe plastic bag; turn steak to coat.
3. Close bag securely and marinate in refrigerator 6 hours or as long as overnight, turning occasionally. Cover and reserve remaining marinade in refrigerator.
4. Remove steak from marinade; discard marinade.
5. Place steak on grid over medium, ash-covered coals.
6. Grill, covered, 10 to 11 minutes (over medium heat on prepared gas grill, times remain the same) for medium rare (62.77⁰C) doneness, turning occasionally and basting with some of the reserved marinade during last 2 to 3 minutes of grilling. (Do not overcook) Remove; keep warm.
7. Heat oil in large nonstick skillet over medium-high heat until hot.
8. Add carrots; stir-fry 5 minutes.
9. Add pea pods and garlic; stir-fry 2 minutes.
10. Carve steak into thin slices. Season with salt and black pepper, as desired.
11. Place remaining marinade in small saucepan; heat until warm. Serve with steak, vegetables and rice. Garnish with cilantro, if desired.
This recipe is an excellent source of Dietary Fiber, Protein, Iron, Niacin, Vitamin B6, Vitamin B12, Zinc, and Selenium.