STEAMED SEA BASS ZUCCHINI
BY CHEF ANTOINE BONNET, BRASSICA, DOWNTOWN, BEIRUT
Serves 4 | Prep/cook time 75 mins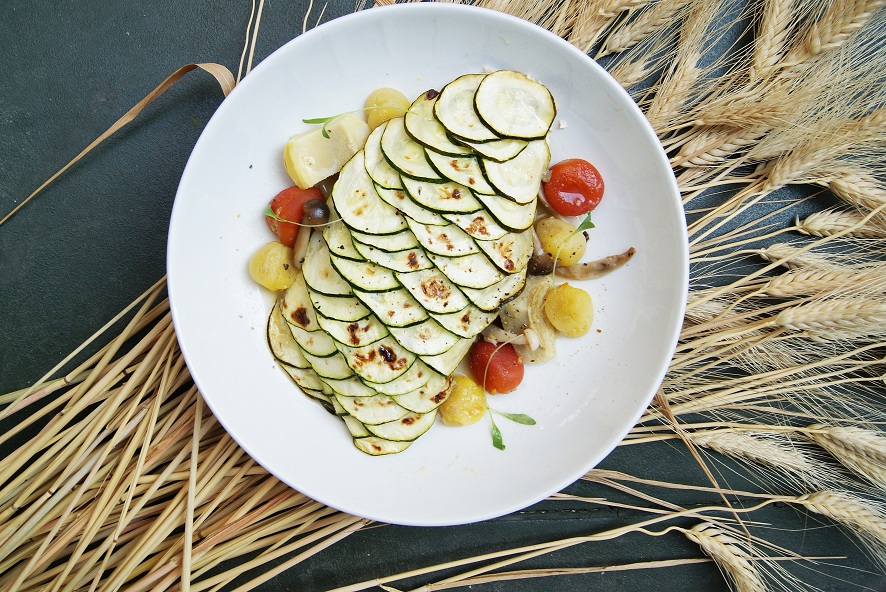 4 sea bass filet
4 zucchini
French thyme to taste
Sauce
20 cl dry white wine
60 g shallots
Rosemary to taste
1 Juniper berry
80 g butter
Garnish
80 g cherry tomatoes (yellow and red)
80 g Honshimeji mushrooms
8 g garlic
80 g artichoke heart
Ask your fishmonger to give to you a sea bass without skin.
Place the fish into a deep tray filled with the garniture of sauce, salt and white pepper.
Thinly slice the zucchini and place the rounds in layers on the fish like fish scales.
Poach the cherry tomatoes in boiling water for 20 seconds and remove in a bath of ice and water.
Remove the tomato skins. Blanch in the boiled water, the Honshimeji a few seconds and place the cherry tomatoes and Honshimeji mushrooms around the sea bass tray.
Cover with an aluminum foil and cook at 180°C for 12 minutes.
Place the garniture in the middle of the dish topped with the sea bass and the sauce on the side. Add white pepper and sea salt to taste.
Chef's Tip
ADD SOME BUTTER IN THE COOKING SAUCE TO GIVE IT A SWEET TASTE.