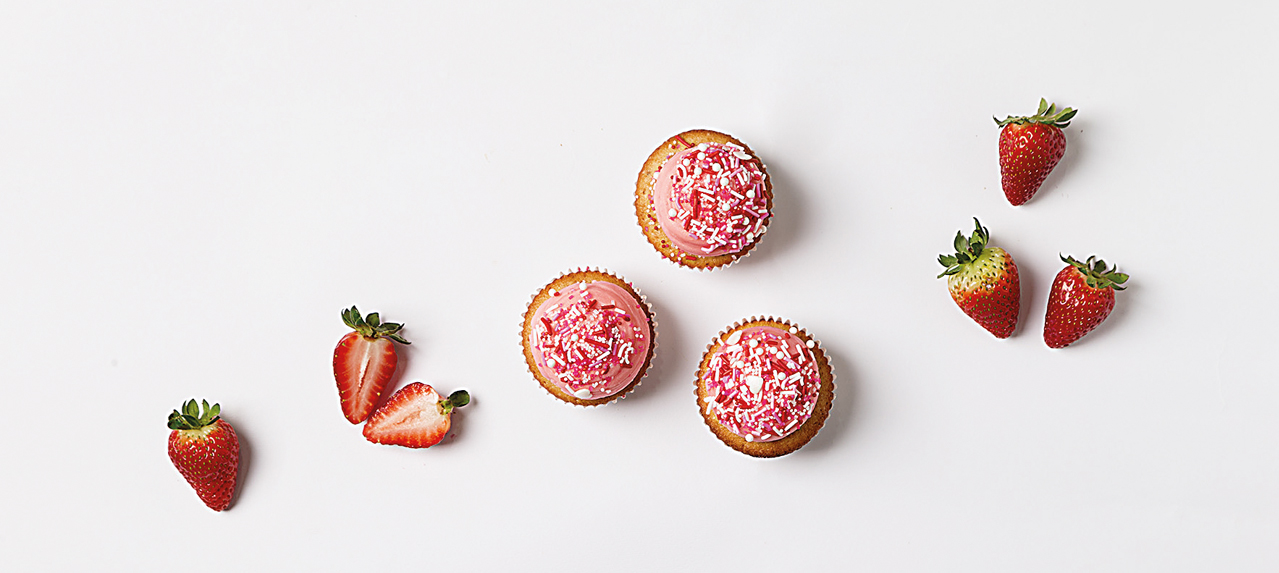 Cupcakes
• 200g plain flour
• 4 tsp baking powder
• 175g unsalted butter
• 250g caster sugar
• 1 ½ tsp rosewater
• 3 eggs
• 175 ml sour cream
Strawberry buttercream
• 160g fresh strawberries
• 225g butter
• 425g icing sugar, sifted, divided
• 1 tsp rosewater
1. Preheat the oven to 180°C. Line a cupcake tray with 12 cupcake cases. Sift the flour and baking powder in
a medium bowl. Set aside.
2. In a mixer, using a paddle attachment, cream the butter and sugar, until light and fluffy. Add the rosewater. Add the eggs one at a time, stopping to scrape down the sides.
3. Slowly add the flour mixture and mix at low speed until well combined. Divide the mixture between the muffin cases.
4. Bake for 20 – 25 minutes or until a skewer inserted in the center comes out clean. Set aside to cool on a wire rack before decorating.
5. For the topping, place strawberries in a blender; puree until smooth. Transfer strawberry puree to a saucepan over medium heat; bring to the boil, stirring often, until puree is reduced by at least half,
about 20 minutes. Remove from heat and cool completely.
6. Beat butter with an electric mixer in a bowl, until light and fluffy. Beat 125g icing sugar into butter until just blended. Beat 2 tablespoons cooled strawberry puree and rosewater into butter mixture until just blended.
7. Add 100g icing sugar, followed by 2 tablespoons strawberry puree; beat until blended. Repeat with remaining icing sugar and puree, adding in batches and beating well until just blended.
8. Spoon the topping into a piping bag and pipe any design you desire on top of the cup cakes and
sprinkle with colorful sprinkles if you wish.