STRAWBERRY & GOAT CHEESE PIZZA
Serves 12 | Preparation 30 mins, plus resting time | Cooking 8-10 mins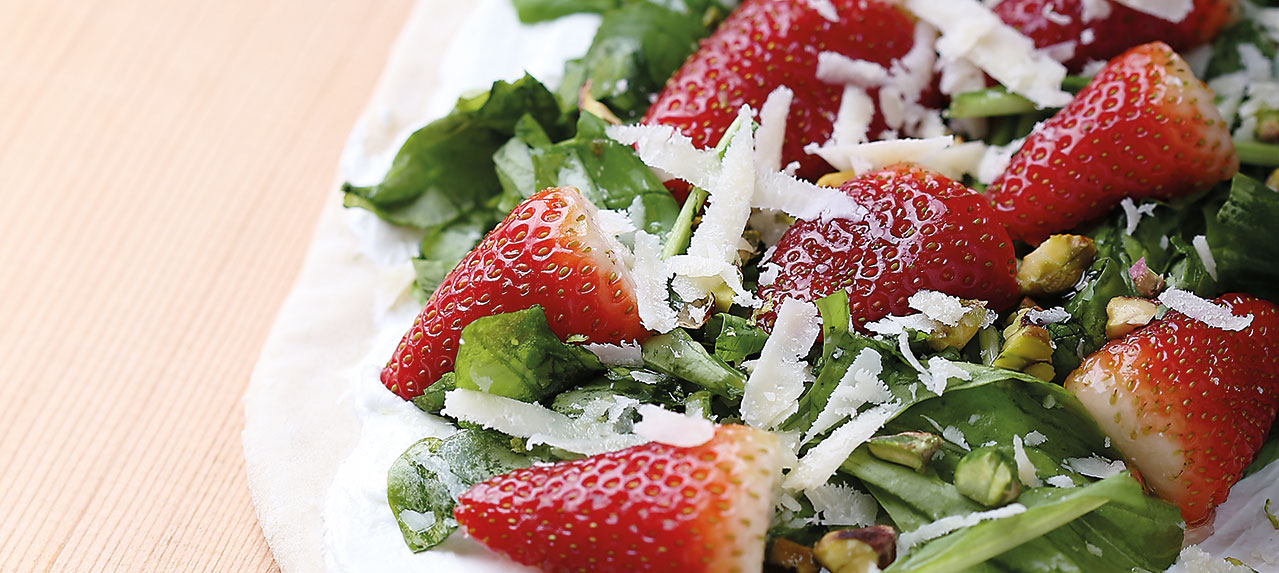 For the pizza dough
2 ¼ tsp active dry yeast
235 ml warm water (about 40°C)
295 ml cold water
2 tbsp olive oil
1 tsp sugar
1 tsp salt
610g unbleached bread flour, divided
Cooking spray
For the topping
170g goat cheese
300g sliced strawberries
300g rocket leaves
1 tsp olive oil
1 tsp fresh lemon juice
60g Parmigiano-Reggiano
cheese, grated
3 tbsp shelled
dry-roasted pistachios, roughly chopped
Salt & freshly ground
black pepper
1. To make the pizza dough, in a small bowl dissolve the yeast in the warm water; let stand 5 minutes.
2. In a small bowl, whisk the cold water, oil, sugar, and salt.
3. Using a stand-alone mixer with a dough hook, combine 580g of the flour, yeast mixture, and cold-water mixture. Mix on low 8 minutes or until dough begins to form. Let rest for 2 minutes; mix on low for 6 minutes or until dough is smooth.
4. Turn dough out onto a floured surface. Knead until smooth and elastic (about 2 minutes); add enough of the remaining 30g of flour, 1 tablespoon at a time, to prevent dough from sticking to hands (dough will feel sticky).
5. Divide the dough in half, and place each portion in a large zip-top bag coated with cooking spray. Seal and chill overnight or up to 2 days. Let stand at room temperature for 1 hour before using.
6. Preheat oven to 180°C. Line 2 baking trays with parchment paper.
7. Roll out dough to approximately 5 mm in thickness and place on prepared baking trays. Bake at 200°C for 8 – 10 minutes. Remove from oven and set aside.
8. For the topping, spread the goat cheese evenly over each crust.
9. In a bowl, toss the strawberries, rocket leaves, olive oil, and lemon juice. Season with salt and freshly ground black pepper to taste.
10. Arrange strawberry mixture evenly over goat cheese. Sprinkle pizza with Parmigiano-Reggiano and nuts. Serve immediately.