STRAWBERRY SHORTCAKE TRIFLE
Serves 8 persons | Preparation time 25 mins | Baking time 15 mins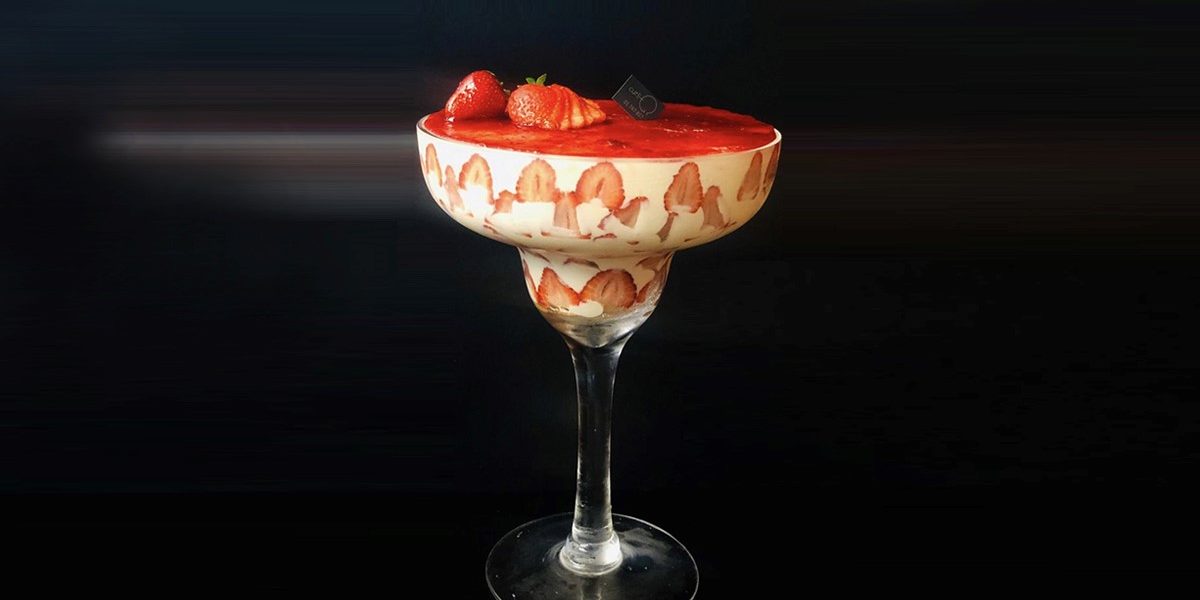 For the cake
• 1.5 cups flour
• 3 tbsp cornstarch
• 1 tsp baking soda
• 0.5 teaspoon salt
• 1.5 cups sugar
• 9 tbsp unsalted butter, room temperature
• 3 large eggs, room temperature
• 0.25 cup sour cream, room temperature
• 0.25 cup yoghurt, room temperature
• 1 tsp vanilla extract
• 6 strawberries, halved
• 750 g fresh strawberries
• Fresh mint or basil leaves for decoration
For the strawberry sauce
• 1 cup granulated sugar
• 1 tbsp cornstarch
• 500 g fresh strawberries
For the sweet yogurt cream
• 1.5 cups plain Greek yogurt
• 1.5 cups cold heavy cream
• 1.5 cups mascarpone cheese
• 0.75 cup granulated sugar
• 3 tbsp brown sugar
Cake
1. Preheat the oven to 140°C. Line a rimmed baking sheet with parchment and spray with baking spray.
2. Sift together in a bowl the flour, cornstarch, baking soda and salt.
3. Mix the sour cream, granulated sugar and butter until light and fluffy, for 2 to 3 minutes. Add the eggs one at a time, mixing well after each addition.
4. Add the yoghurt and vanilla, and mix until combined.
5. Add the sifted dry ingredients and mix on low speed until just barely combined.
6. Pour onto the prepared baking sheet and bake until the cake is golden. Set aside and allow to cool completely.
Strawberry sauce
1. Put the strawberry, granulated sugar, cornstarch and 0.5 cup of water in a saucepan. Stir together and bring to the boil.
2. Cook until it starts to thicken, then remove from the heat. Set aside in the fridge and allow the mixture to thicken.
Sweet yogurt cream
1. Whisk the yogurt, cream, mascarpone, granulated sugar and brown sugar on high until smooth and silky.
2. Cut the cake into 4 x 2 cm strips.
3. Assemble the trifle – place one half of the cake in the bottom of a large glass bowl. Soak with half of the strawberry sauce, strawberry pieces and place the strawberries – nicely cut – on the sides for decoration. Add half of the sweet yogurt cream. Repeat the layers of cake, sauce, strawberry, decorative strawberries and cream. Garnish with fresh halved strawberries and mint leaves. Cover and place in the refrigerator to chill for at least 2 hours before serving.
MORE RECIPES FROM T&F HARD COPY