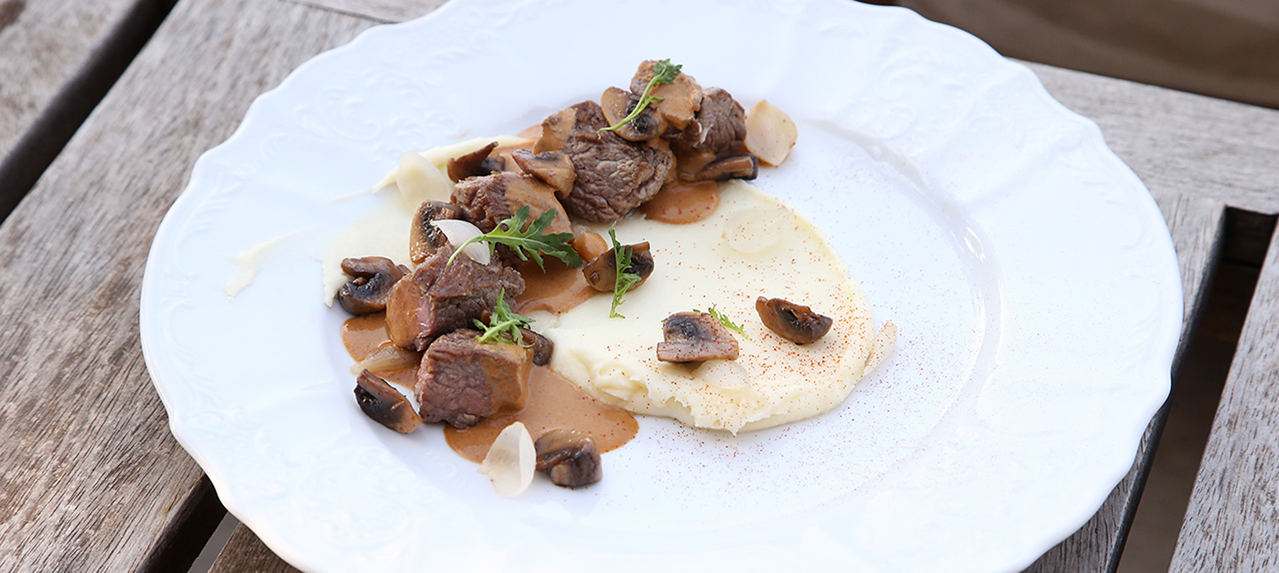 Beef stroganoff
700g beef sirloin
400g button mushrooms
2 diced onions
½ glass of red wine
2 tbsp vegetable oil
1 tbsp butter
1 tbsp flour
1 tbsp wine vinegar
1 tsp mustard
600 ml beef stock (or 1 beef stock cube)
100g fresh cream
A pinch of sugar
A pinch of paprika
Salt
White pepper
Mashed potatoes
2 big potatoes
100g butter
200 ml milk
Salt
1. Season the beef sirloin with white pepper and salt.
2. In a pan, heat the vegetable oil and the butter then sear the beef and put aside.
3. In the same pan, stir fry the mushroom and reserve aside.
4. In the same pan, cook the diced onions at low heat, till they turn golden. Add the flour and mix for about half a minute.
5. Add red wine and leave it to reduce. Once the wine is reduced, add the vinegar, the mustard, the beef stock, the pinch of sugar and the paprika and add salt to taste. Simmer around 6 minutes then add the fresh cream.
6. Remove from heat; add the beef and the mushroom.
7. Boil the potatoes till cooked, then peel and mash. Incorporate the milk while mixing until you reach a smooth texture. Then add the butter and season to taste.