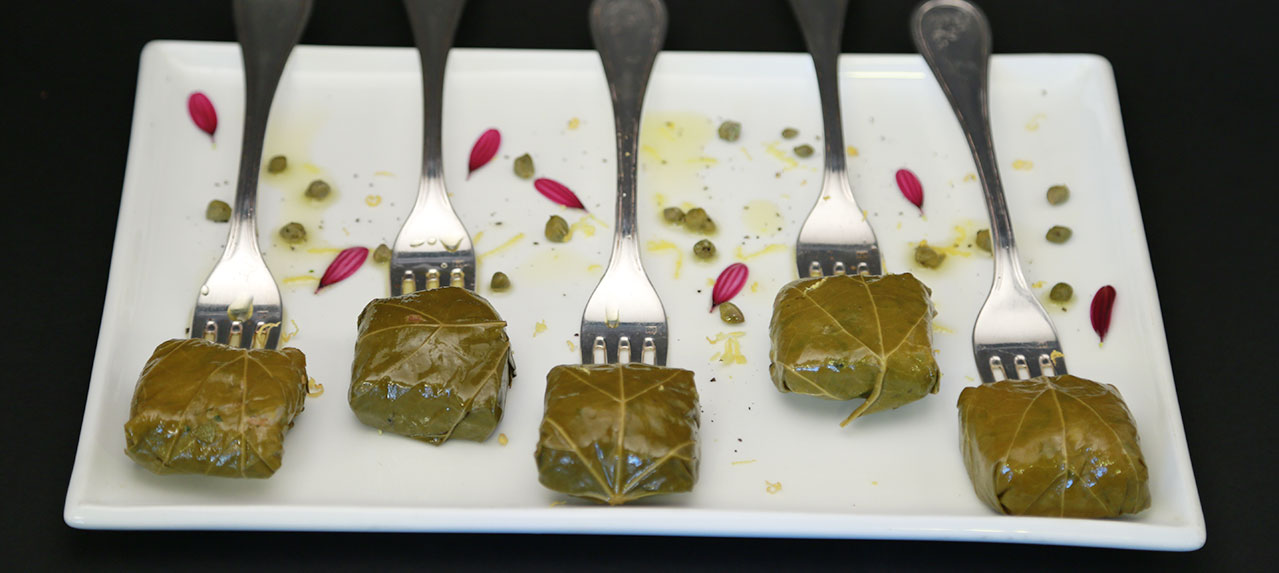 500g vine leaves
¼ cup butter
½ cup olive oil
28 green onions, chopped
1 cup grated onion (dry onion)
 ⅓ cup pine nuts
 ½ cup finely chopped dry raisins (sultanas)
½ cup Egyptian rice
½ cup finely chopped fresh parsley
½ cup finely chopped fresh mint
1 tsp lemon zest
1kg fresh salmon filet
⅓ cup freshly squeezed lemon juice
1. Wash the vine leaves and remove the stalks.
2. Blanch them by dipping a few at a time in boiling water for 5 minutes, then drain.
3. Melt the butter with 3 tbsp of the oil in a large saucepan, and lightly sauté the green onions and the dry onion. Add the pine nuts and dry raisins and stir over high heat for a few minutes. Add the rice, parsley, mint, lemon zest, salt, pepper and 2 cups of boiling water to the pan. Cover and simmer until all the water is absorbed and the rice is soft.
4. Remove from heat and let the mixture cool.
5. Stir in the raw fish.
6. Press the rice into 22 x 22cm square baking pan, previously brushed with a little oil. Turn the molded rice out into the workbench and cut into 2 x 2cm square pieces with a pastry cutter.
7. Wrap each rice-square in a vine leaf to form a small parcel.
8. Spread a few vine leaves on the bottom of a large heavy-based saucepan and arrange the stuffed vine leaves side by side, in layers.
9. Put the pan over heat and add the remaining oil, lemon juice and 2 cups of boiling water. Season, cover the pan and simmer about 20 minutes until the vine leaves are soft and only a little bit of juice is left.
10. Serve the vine leaves cold.
This recipe can be prepared in advance.