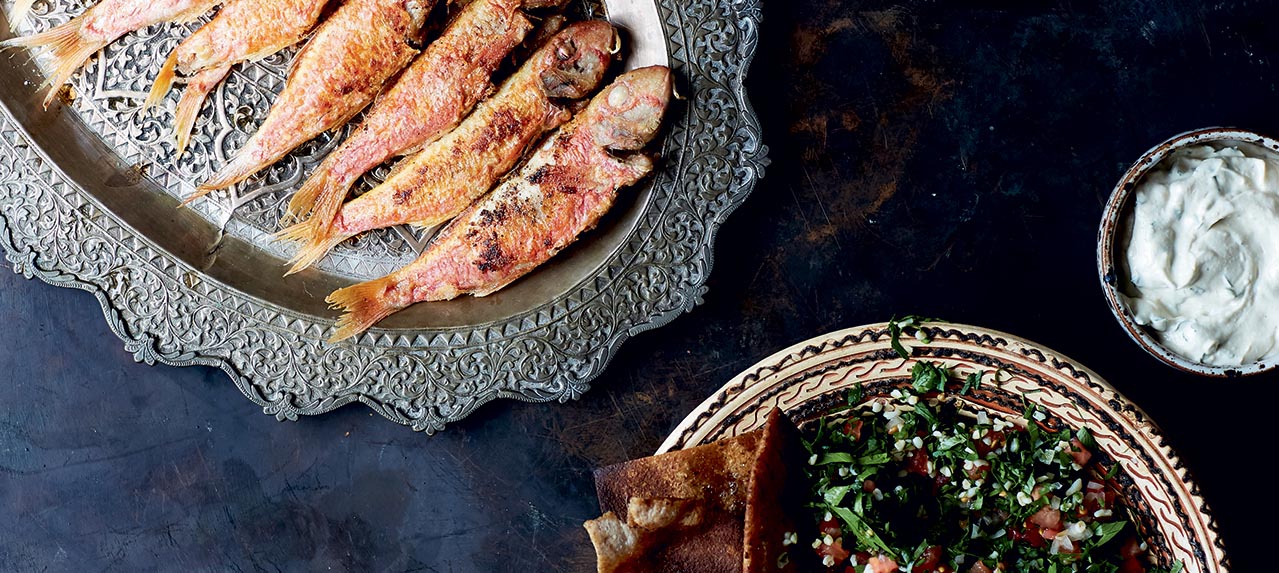 6-12 red mullet
Sunflower oil for frying
3-4 tbsp plain flour
1 large village bread
1 lemon, halved
2-3 large bunches of flat-leaf parsley
Leaves of ½ bunch of mint
50g fine cracked wheat
4 large, ripe tomatoes, finely chopped
5 – 6 spring onions, finely chopped
Juice of 1 ½ – 2 lemons
1 ½ tsp slat
100ml olive oil
100g Greek yoghurt
150g tahini
1 garlic clove, crushed
Small handful of flat-leaf chopped parsley
1. Start by making the tabbouleh, as the cracked wheat needs time to soak in the dressing so that it swells until tender.
2. Chop the parsley and mint very finely on a board. Don't overchop and go over herbs a second time once you've chopped them, otherwise they will become soggy and won't provide the right texture for the tabbouleh.
3. Wash the herbs well, then spoon them into a sieve resting over a bowl.
4. Sprinkle over the cracked wheat and leave on the worktop for 30 minutes to 1 hour to allow the wheat to absorb the moisture.
5. Meanwhile, make the tahini sauce. Stir the Greek yoghurt, tahini, garlic and parsley together, then add a good splash of water to loosen the mixture. Set this aside, too.
6. Check the fish for any stray scales and throw them away.
7. Heat a couple of centimeters of oil in a large frying pan. It's ready when a piece of bread sizzles madly in it.
8. Spread the flour mixture on a large plate.
9. Dip each fish into it to coat both sides, then shallow-fry the fish on both sides to get the skin nice and crispy and cook the flesh all the way through.
Once all the fish has been fried, fry the pieces of bread until just golden. Season with a little salt.
10. Finish the tabbouleh. Tip the herbs and cracked wheat into a large bowl.
11. Add the tomatoes, spring onions, lemon juice, salt and olive oil, and mix everything together.
12. Spoon the tabbouleh on to a large platter, carefully arrange the fish on top followed by the crisp bread and serve with the tahini sauce and lemon halves to squeeze over.