BRAISED ENDIVE WITH TAGINE SAUCE AND CANDIED LEMON IN SALT, PUFF POTATOES CRISPS
Serves 4 | Prep/cooking 40 mins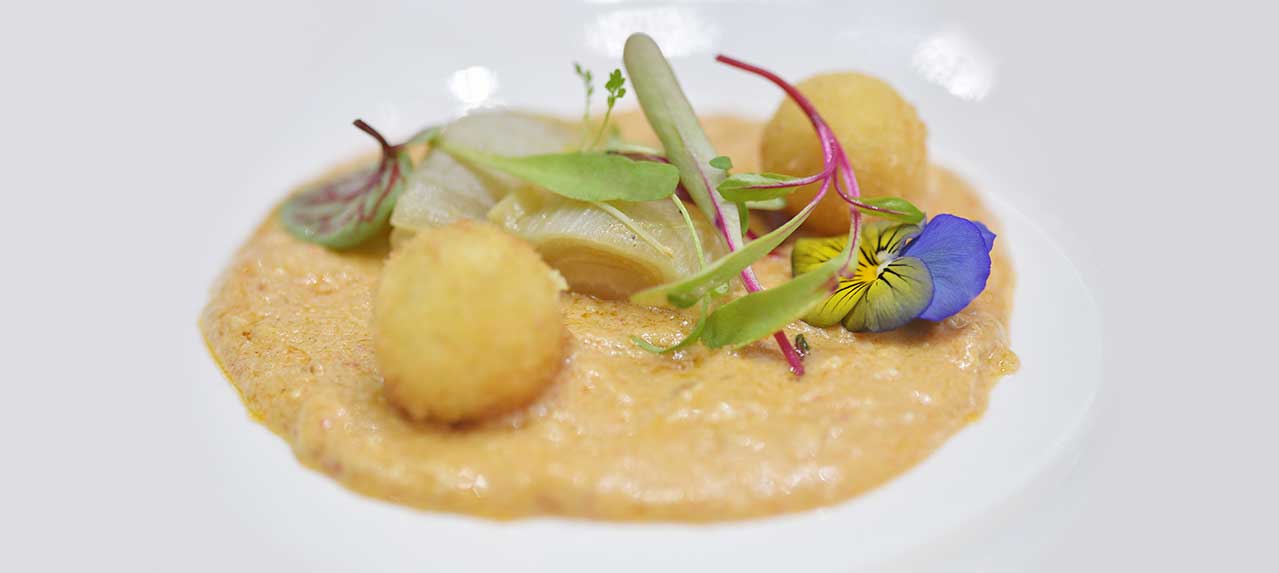 350 g Tahini
80 ml Oil Olive
100 g sliced shallot
175 ml Juice Orange
80 ml lime juice
15 g Garlic Sliced
5 g dry Chili
30 g Tomato paste
20 g orange zest
30 g Chopped Fresh Coriander
5 g Coriander Dried
80 g Pine Nuts
30 g Confit lemon puree
Salt and Black Peppercorn
2 russet potatoes, peeled and ends trimmed
1 quart vegetable oil
Braised Endive
500 g Belgian endive either whole or cut in half lengthwise
30 g butter
10g salt
3 g black pepper
2 cloves garlic
1 dash nutmeg
20 g brown sugar
200 ml water vegetable stock
1. To prepare the sauce: Grind half of the pine nuts with a food processor. Leave the rest for garnishing.
2. In a small bowl, mix the minced garlic, citrus juices, tahini, water, salt, dried coriander and chili pepper. Gently roast the onion slices in a deep pot over medium heat for 10 minutes.
3. Add the mixture and simmer over medium heat until the sauce become consistent.
4. Stir constantly to prevent the paste from sticking.
5. Add the pine nuts paste, the tomato paste, salt and pepper to the sauce once it is boiling, then simmer for 5 more minutes and finish with freshly chopped coriander and confit lemon puree.
6. To prepare the braised endive blanch the endive in a boiling water for 5 minutes to take out the bitterness taste then cut each Belgian endive in half lengthwise.
7. Pour the butter in a pan over a medium heat. Add the Belgian endives, salt and pepper.
8. Seared about 5 minutes turning the endives over a couple times to get them brown.
9. Add the nutmeg, minced garlic and sugar. Continue to cook for another minute or so, turning them over once. Add a little stock and continue to cook over until the endives become tender (about 10 to 15 minutes more). Set aside when cooked.
10. Slice the potatoes to just under a 1/4 inch thick. Slice into 1 1/2 inch wide segments.
11. Place a few potato slices into 140 degree Celsius oil, using the skimmer to vigorously stir the oil. Whisking the oil helps the potatoes create a skin that will then puff. Cook for about 2 minutes until blistered. In a second pot of oil heated to 180 degree Celsius, dip the potatoes one at a time using a skimmer to baste them. Dip the potato in the oil, pull it out immediately, and shake the potato on the skimmer until it puffs. Set aside.
12. Dress the braised endive in the plate, garnish with Tagine sauce and finish with puff potatoes.