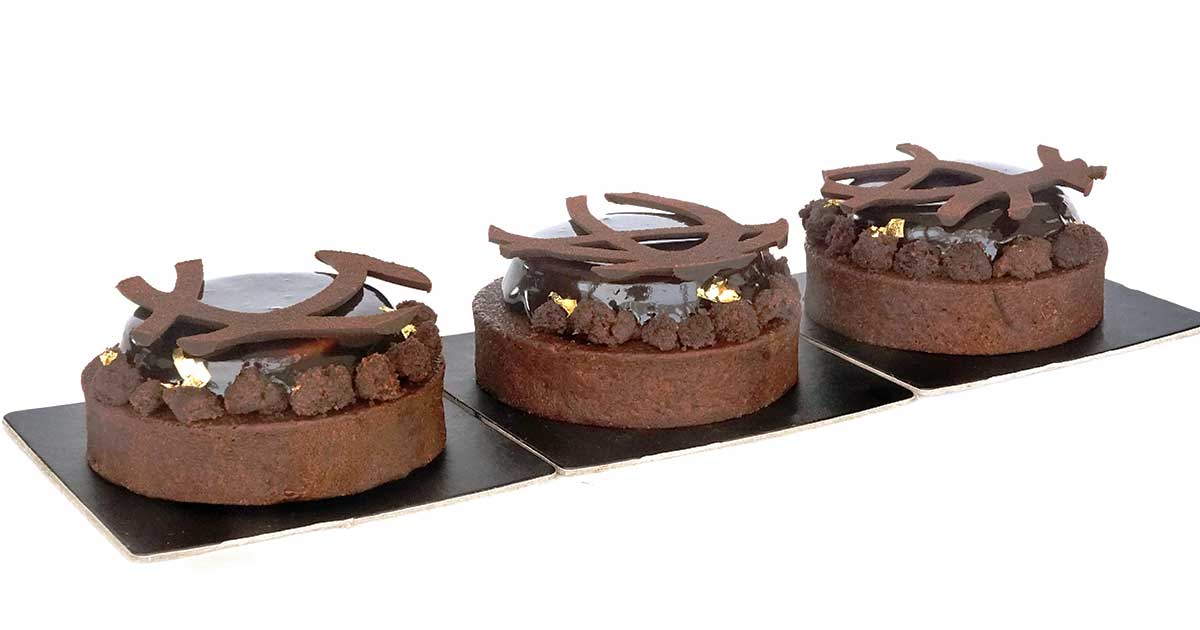 445g Flour
2g Salt
80g Icing sugar
275g Butter
1egg Yolk
25g Milk
5g Vanilla essence
410g Sugar
150g Almond powder
70g Cocoa powder
10g Freeze-dried raspberries
175g White chocolate
11g Gelatin leaves
235g Cream
335g Date paste
90g Egg
90g Egg yolk
420g Cream
45g Water
127g Whipped cream
1. Dice butter into cubes and combine with mix of powders. Add egg yolk and milk. Chill for one hour.
2. Cut dough once hard and add to buttered tart. Bake at 170°C for 10 minutes with baking paper disk inside and raw chickpeas to keep the shape of the tart.
3. Fill tart shell once cold with pudding mix and bake again at 175°C for 15 minutes then cool down.
4. Dice butter into cubes and combine with mix of powders. Spread streusel evenly on baking tray with silicon mat.
5. Bake at 150°C for 10 minutes. Cool down and place streusel around tart.
6. Soak gelatin in cold water and boil cream. Drain and place gelatin then pour hot cream on top of chocolate and add date paste. Leave in chiller 24 hours.
7. Mix egg yolk with sugar, boil cream and add date paste.
8. Melt butter and add to mix. Whip egg white and pour to mix then empty on tart shell and bake at 180°C for 10 minutes.
9. Mix water, sugar and cocoa and add cream to syrup and boil. Add soaked gelatin and once cold, pour on top of tart.