BY PASTRY CHEF INSTRUCTOR GLENN NOEL
Serves 1 | Prep/cooking 45 mins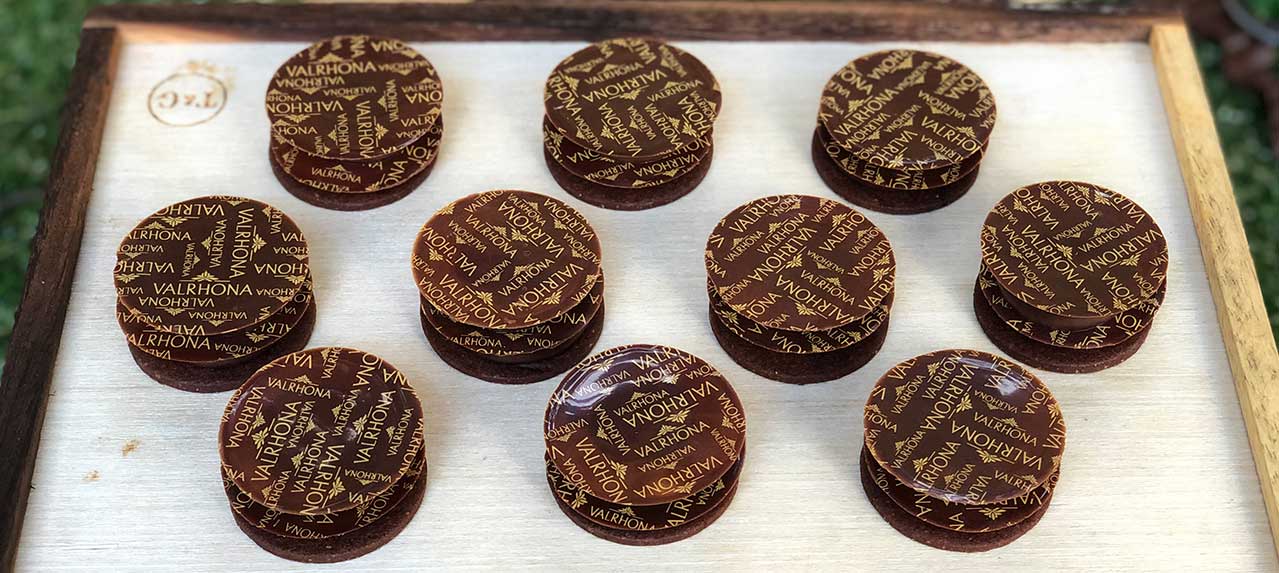 740g Cream 35% fat
120g Inverted sugar
630g Manjari 64% Couverture
420 g P125 Coeur De Guanaja
760 g Butter
320 g Eggs
1500 g Flour 55
570 g Icing sugar
190 g Ground almonds SOSA
13 g  Salt
1. Heat the milk and the inverted sugar.
2. Slowly pour this mixture over the melted fruit couverture.
3. Immediately mix using an electric mixer to make a perfect emulsion. Set aside.
4. Mix the P125 Coeur de Guanaja melted to 35°C with the softened butter.
5. Add the eggs one by one. Add the flour, icing sugar, almond powder and salt. Mix on the slowest speed to form the dough.
6. Roll our between guitar sheets. Bake at150°C.
7. Make the Pate Sable P125 and roll out to 2.5 mm. Chill in the fridge then cut out circles of 35mm. Cook at 150°C for 12-15 minutes.
8. Temper the Manajari and spread between 2 Guitar sheets. When the couverture starts to crytalise cut out discs of 35mm.
9. Make the entremet Ganache, leave to crystalise at 16°C. Once semi-crsytalised pipe 5-10g on the sable, Place a disc of Manjari on top, pipe 5-10g of ganache and finish with another disc of Manjari.