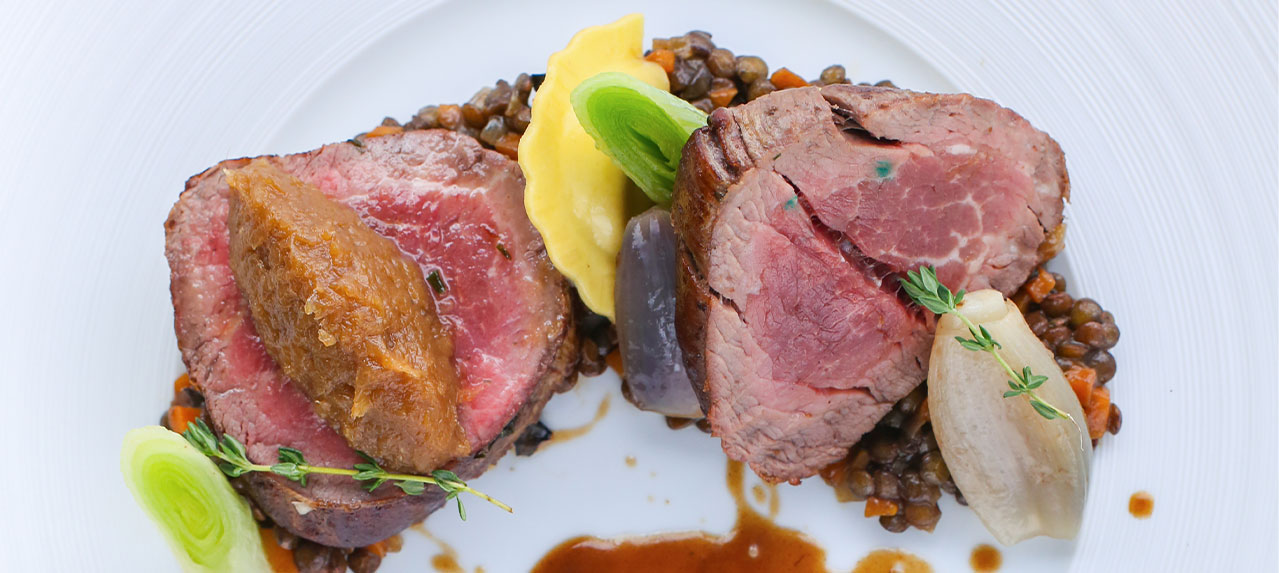 1/2 packet bacon (lardons)
2 medium garlic cloves
100g grated Emmental cheese
50 g chopped carrots
100 chopped shallot
50 g chopped celery
100 g cepe mushrooms
1 bundle fresh tarragon
200g green Puy lentils
200 ml demi-glace
100 ml red wine
Half bundle fresh thyme
6 pieces Wanton dough
500 g fresh spinach
60 g mascarpone
10 g pine nuts
200 g baby onion
200 g leek
600 g beef tenderloin
50 ml olive oil
100 g butter
Salt and pepper
1. In a boiling water put salt and cook the lentil 45 minutes until became firm and cooked.
2. In a hot pan put the bacon. Fry until they start to turn golden brown.
3. Chop the onion, garlic, carrot and celery and add to the pan. Continue to fry the mixture for 5-7 minutes until the vegetables are cooked. Roughly chop the mushrooms and add them to the pan.
4. Add in the red wine and fresh thyme and stir the mixture for a few minutes- letting the alcohol evaporate. Then add in the drained lentil.
5. Season the mixture well with salt and pepper and then add the demi-glace. Stir the mixture well and let it simmer for 5-10 minutes. Finely chop the tarragon and set aside.
6. Serve the Cassoulet hot in a deep plate.
7. To prepare the vegetables, gently peel the vegetable, boil for 12 minutes in a salty water. Strain and set aside.
Using a frying pan, sautéed the vegetables with butter for 10 minutes and finally finish with salt pepper corn.
8. To prepare the raviolis, using a frying pan, gently fried the spinach with butter, season with salt and pepper, put in the strainer, cool.
9. Mix the spinach with mascarpone cheese and pine nuts season with salt and pepper and stuff the wanton with the cheese mixture.
10. Over boiling water poach the Raviolis for 6 minutes and set aside.
11. Over medium high heat, Pan fried the wrapped beef tenderloin in a hot pan with oil and butter on all sides, than add thyme and continue cooking for another 10 minutes.
12. Take out the beef and put in the tray and continue cooking in the oven upon guest request.
13. Put in the high temp oven for about 20 minutes over 200° C to develop a nice crust.
14. This will prevent juices from flowing out during the cooking and add flavor.
15. Take out the beef from the oven, cover with aluminum foil and set aside.
16. Dress the lentil cassoulet in the middle of the plate, cut one piece of beef and place on top and finish with Wanton raviolis and glazed vegetables.