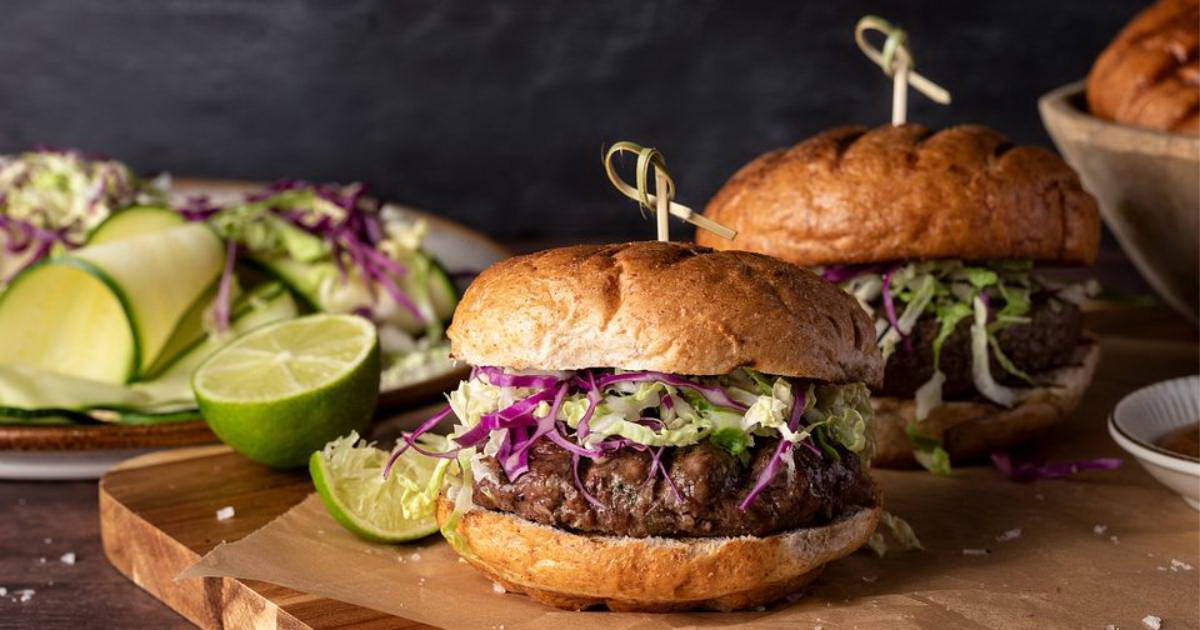 Picture courtesy of beefitswhatsfordinner.com
1 pound Ground Beef (93% lean or leaner)
1 cup shredded Napa cabbage
2 tablespoons fresh lime juice, divided
1/2 cup chopped green onions
1 teaspoon ground ginger
1 teaspoon hot chili sauce
1 tablespoon creamy peanut butter
1 tablespoon hoisin sauce
1 teaspoon toasted sesame oil
4 whole wheat or white hamburger buns, split
Combine cabbage and 1 tablespoon lime juice in medium bowl; set aside.
Combine Ground Beef, green onion, ginger and chili sauce in medium bowl, mixing lightly but thoroughly. Lightly shape into four 1/2-inch thick patties.
Heat nonstick skillet over medium heat until hot. Place patties in skillet; cook 10 to 12 minutes until instant-read thermometer inserted horizontally into center registers 160°F, turning occasionally. Season with salt and pepper, as desired.
Meanwhile, combine peanut butter, hoisin sauce, remaining 1 tablespoon lime juice and sesame oil in small bowl. Cover and refrigerate until ready to use.
Place 1 burger on bottom half of each bun; top evenly with peanut butter mixture and cabbage mixture. Close sandwiches.
Hot chili sauce, an Asian condiment made from red chilies, garlic and vinegar, imparts a tangy, spicy heat to dishes. Hot chili sauce is available in Asian markets and the Asian section of most supermarkets.
Cooking times are for fresh or thoroughly thawed Ground Beef. Ground Beef should be cooked to an internal temperature of 160°F. Color is not a reliable indicator of Ground Beef doneness
Wash hands with soap and water before cooking and always after touching raw meat.
Separate raw meat from other foods.
Wash all cutting boards, utensils, and dishes after touching raw meat.
Do not reuse marinades used on raw foods.
Wash all produce prior to use.
Cook beef until temperature reaches 145°F for medium rare steaks and roasts 160°F for ground beef.
Refrigerate food promptly.
OTHER RECIPES YOU MAY LIKE