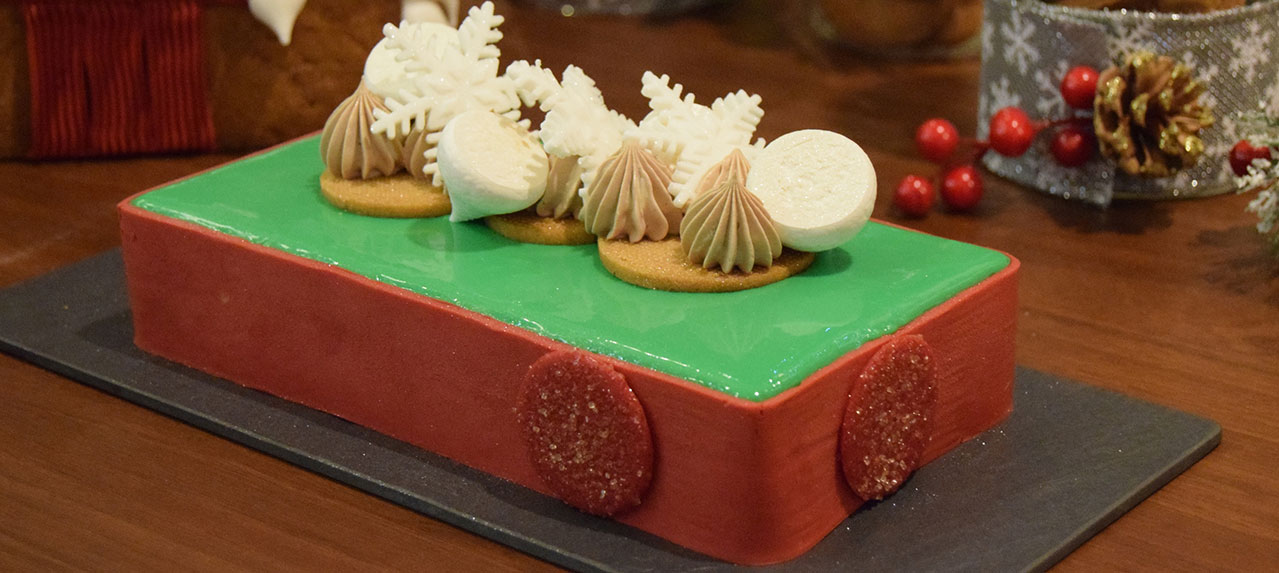 Flour 600 g
Icing Sugar 230 g
Almond Powder 80 g
Cinnamon powder 6 g
Eggs 120 g
Butter 360 g
Egg White 85 g
Sugar 85 g
Egg 130 g
Egg yolk 60 g
Sugar 190 g
Almond Powder 240 g
glacage neutral 1000 g
green color 2 g
yellow color 1 g
Egg white 100 g
sugar 200 g
Vanilla essence 2 g
Flour 60 g
Salt 3 g
butter 110 g
Apples 3 pcs
Sugar 100 g
Cinnamon powder 5 g
Gelatin mass 10 g
Hazelnut Praline 100 g
Hazelnut paste 35 g
Whole milk 70 g
Gelatin sheets 4 g
Whipped cream 200 g
Milk liquid 150 g
Fresh cream 150 g
glucose 500 g
white chocolate 1000 g
gelatin 30 g
1. Sand all powders with cubes of butter, add eggs at the end to link the dough and store in the fridge.
2. When it's cold, roll 4mm and cut to the desired shape, bake around 18 min at 160 degrees.
3. Whip egg white and add gradually the first part of sugar, in another bowl, mix egg, egg yolk and the second part of sugar.
4. Add the almond powder, flour, salt and melted butter only when the egg whites are ready.
5. Mix delicately the both preparation and pour around 700g per tray and bake at 200 degrees for 7 minutes.
6. Caramelize sugar, apple cubes and cinnamon powder then add the gelatin mass, pour in the desired mold and freeze.
7. Mix the hazelnut praline with the hazelnut paste and the milk then heat to 30 degrees.
8. Add the softened melted gelatin. Fold in the whipped cream and mix.
9. Boil the milk, cream and glucose until you see bubbles then add gelatin to the mixture then add the white chocolate.
10. Add the colors and at the end neutral glaze and mix them using a hand mixer.
11. Heat the eggs, sugar and vanilla at 44 degrees, then whisk to get white shiny meringue.
12. Cook at 80 degrees for 2 to 3 minutes.