BY PASTRY CHEF ALI IBRAHIM
Serves 6 | Preparation time 2 hrs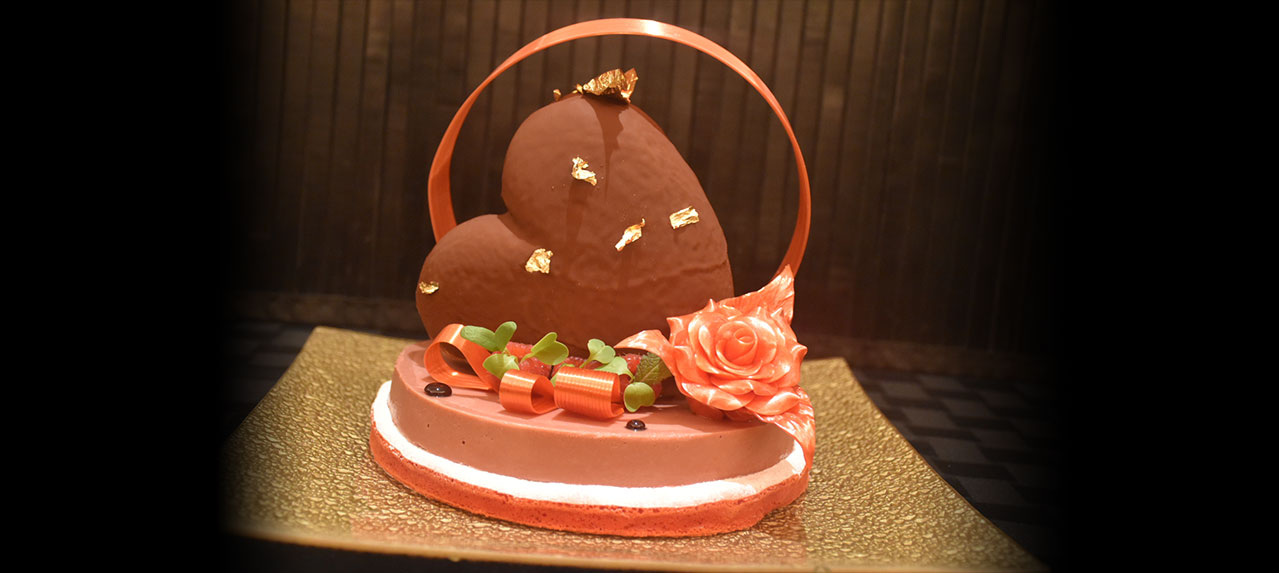 38 g white eggs
100 g sugar
24 g water
94 g Almond powder
100 g icing sugar
2 g red color
250 g full milk
250g of liquid sour cream
100 g hazelnut
120g fresh yolks
50 g Caster sugar
200 g chocolate milk
24 g Gelatin
150 g butter
110 g sugar
45 g butter
300 g apricot puree
zest of 02 oranges
60 g lemon juice
130 g eggs
90 g butter
5g gelatin
1. In the bowl of a food processor, combine the icing sugar, almond powder.
2. In a separate large bowl, beat the egg whites with an electric hand mixer until soft peaks form. In same time cook the sugar and water until to reach 118ºC.
3. Gradually add the caramel sugar cooked at 118ºC on the egg white until fully incorporated. Continue to beat until stiff peaks form (you should be able to turn the bowl upside down without anything falling out).
4. Add the food coloring and beat until just combined.
5. Add about 1/3 of the sifted almond powder mixture at a time to the beaten egg whites and use a spatula to gently fold until combined. After the last addition of almond flour, continue to fold slowly until the batter falls into ribbons and you can make a figure 8 while holding the spatula up.
6. Transfer the macaron batter into a piping bag fitted with a round tip.
7. Place 4 dots of the batter in each corner of a rimmed baking sheet, and place a piece of parchment paper over it, using the batter to help adhere the parchment to the baking sheet.
8. Pipe the macarons onto the parchment paper in 1½-inch (3-cm) circles, spacing at least 1-inch (2-cm) apart.
9. Tap the baking sheet on a flat surface 5 times to release any air bubbles.
10. Let the macarons sit at room temperature for 30 minutes to 1 hour, until dry to the touch.
11. Preheat the oven to 300ºF (150ºC).
12. Bake the macarons for 17 minutes, until the feet are well-risen and the macarons don't stick to the parchment paper.
13. Transfer the macarons to a wire rack to cool completely before filling.
14. Combine icing sugar & flour & almond powder.
15. Add eggs and butter.
16. Mix all ingredients to obtain an compact texture.
17. Use a metallic circle 12 cm /diameter.
18. Baked at 200ºC for 8 to 10 minutes.
19. Preparation: infused the toasted hazelnuts in the hot milk and cream for around 10 minutes. Add yolks and sugar and reach 85ºC.
20. Add the soft gelatin and pour over the milk and chocolate. Mix with Hand-blender. Reach 40ºC. and add butter and mix again.
21. Put the full mix quantity in heart shape and store in refrigerator for 12 hours. Caramelized the sugar to obtain brown color but not burned add 45 gr of butter. Stir the apricot puree in hot temperature with orange zest.
22. Pour over whipping eggs and 90 gr butter.
23. Stir the soft gelatin. And stir all together with lemon juice.
24. Use a metallic circle 12 cm /diameter and store in refrigerator for 6 hours.