THE TOP OPEN-AIR BARS AND ROOFTOPS
With temperatures rising, rooftop bars are back in business, with great views, a cool breeze and some fantastic drinks and food on offer. While our seaside city is spoiled for choice, we've put together a list of the top open-air bars and rooftops Beirut has to offer, featuring some old favorites, as well as some new venues set to open just in time.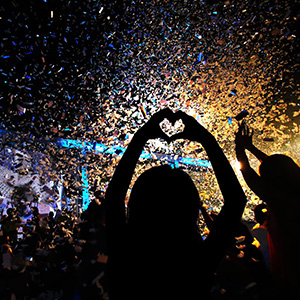 SKYBAR
---
While this reopening has been kept top secret, the famous bar is set to open a revamped version in BIEL, on top of O1NE. Construction began in March and rumor has it that they will open their doors around mid-July so stay tuned.
BIEL | 03 939191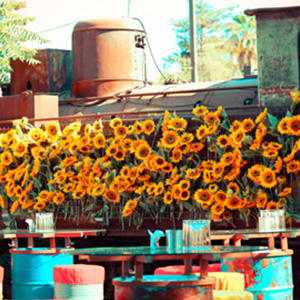 TRAINSTATION
---
Trainstation is set to reopen for the summer on 24 June with a cool new feature. The food will be catered by Mothershucker, a restaurant known for offering  fresh French and Japanese oysters. So grab a drink and soak up the spirit at one of the capital's most iconic spots.
Mar Mikhael | 78 907090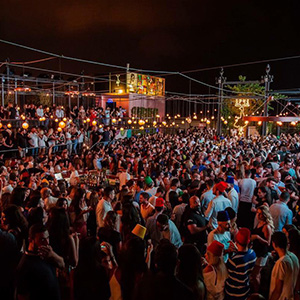 CAPRICE 
---
Much like its name suggests, Caprice is a place designed freely and unrestricted by any specific rules or form, making it a great spot whether you're in search of a boozy meal with a view or just a few drinks for the party before your party. They will be opening where White was in Dora (on the seaside road), in order to increase capacity to 700. 

Seaside rd, Dora | 70 220223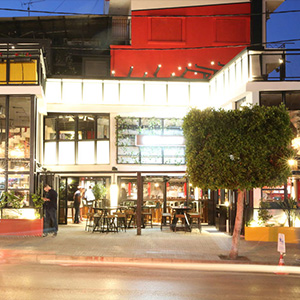 DIRTY LAUNDRY
---
The urban kitchen and bar, designed by Sari el Khazen Architects, defines itself as a place of solace in the busy Armenia Street, Mar Mikhael, combining a mid-century modern aura with elements from around the world. The rooftop bar of Dirty Laundry overlooks the mountains and is an ideal spot for catching up with friends and for spilling your secrets!  
Armenia Street, Mar Mikhael | 81 331333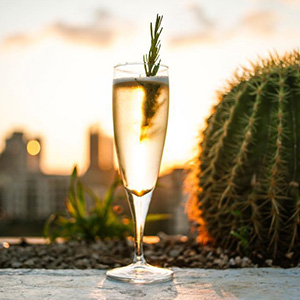 SKIN CITY 
---
With their rooftop venue up and running, Skin City, previously known as PRE, has some brilliant summer offers for a wallet-friendly night out. From 6 pm on weeknights, cocktails cost just 10,000 LBP and the food buffet is a bargain at $20 per person. With different guest DJs every night, you won't get bored of coming back for more.
George Haddad St, Miele  | 81 282 807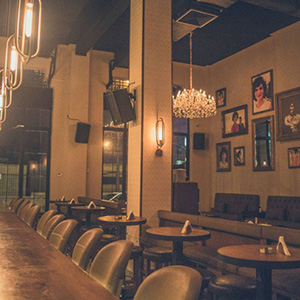 JACKIE O BEIRUT ROOFTOP
---
Having opened in early March, Jackie O Beirut will introduce its new rooftop just in time for the summer. The place boasts a mix of gourmet finger food and light bites, with innovative cocktails such as the Mediterranean Martini, containing sumac, balsamic vinegar and Himalayan salt.

Saifi | 03 315324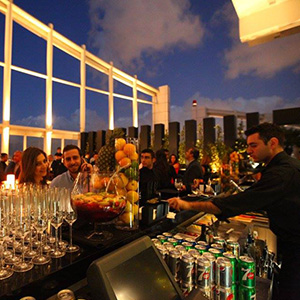 THE ROOF, FOUR SEASONS
---
Located on the 26th floor of the Four Seasons Hotel Beirut, The Roof's prime location makes it the ideal spot for sundowners and stargazing, while overlooking the city's ever changing skyline and Mediterranean Sea. The menu offers a selection of Asian fusion food  and specially blended cocktails and mocktails. Catch the live music every Wednesday evening and at sunset on Sundays.
Four Seasons Hotel | 70 010555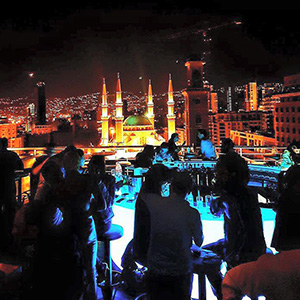 CAPITOLE
---
Capitole is known for its subtle yet sophisticated style, its uplifting music, and delicious food. It exhibits a seamless combination of a breathtaking rooftop restaurant, a club lounge and a bar. Their signature cocktail, Capitole's Spritz, features white wine, Cointreau, blueberry, strawberry, ginger ale, basil, and Arabic gum.
 Riad El Solh, Downtown | 70 302402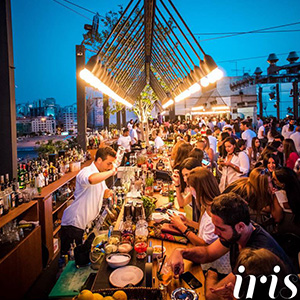 IRIS
---
Iris is a cool getaway for those breathtaking sunset views and city lights, a go-to venue for the midtown post-work crowd and trendsetters, where it's easy to get lost sipping on succulent drinks, great conversation and funky music. You can even catch live music every Thursday and Sunday night.
Al Nahar Bld, Downtown | 03 090936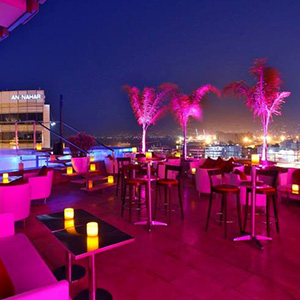 CHERRY ON THE ROOFTOP
---
With a name that takes inspiration from the fabulous fruity painting that hangs at its entrance, Cherry on the Rooftop attracts a stylish crowd. There are comfortable couches and high tables on the terrace, where you can kick back and admire the infinity pool, not to mention views of Beirut, the mountains and the sea.
le Gray Hotel, Downtown | 01 962888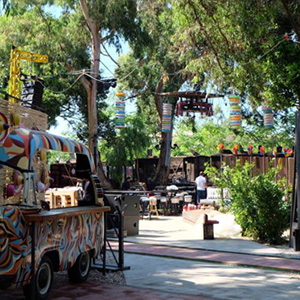 FEB30
---
Feb30, a gastro-pub previously located in Hamra, will be opening up at the Bus Station in Mar Mikhael on 23 June. With space for 700 party-goers, it's set to be a trendy new addition to the city's buzzing summer scene.
Bus Station, Mar Mikhael | 76 994405