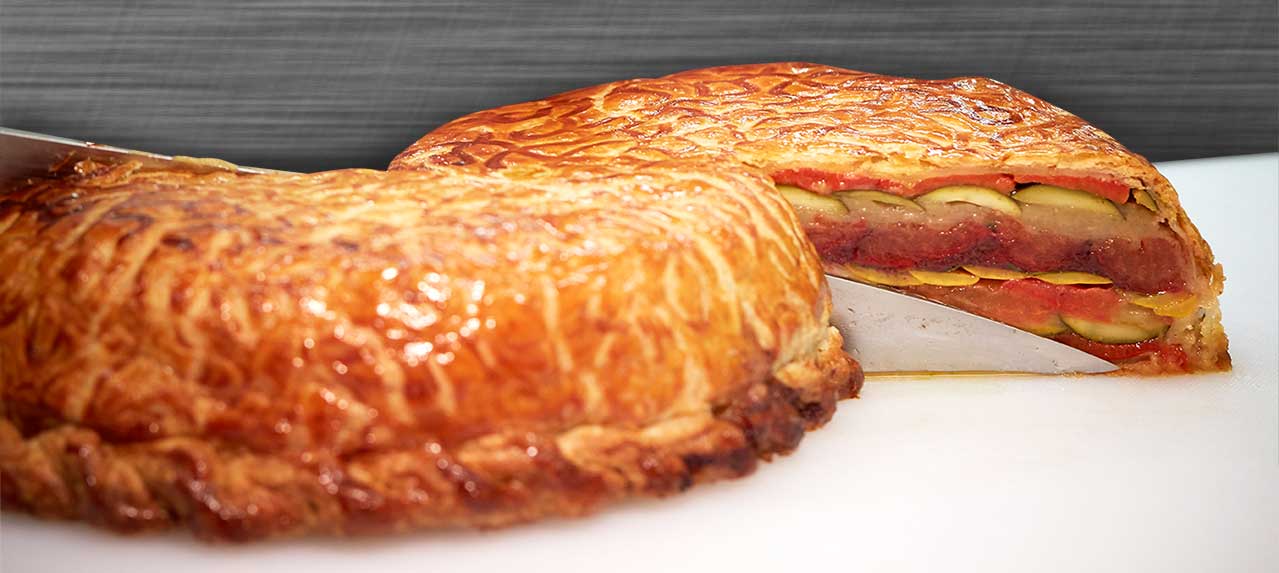 3 Zucchini
4 Peppers
3 Eggplants
8 Tomatoes
2 garlic cloves
Thyme
Salt
Pepper
Olive oil
2 pieces of puff pastry
1 Egg Yolk (for gilding)
80g Black olive tapenade
1. Wash and dry the zucchini, peppers, eggplants and tomatoes. Peel the garlic.
2. Peel the tomatoes and peppers, cut them into quarters and remove the seeds. The quarters must look like petals.
3. In 2 different saucepans, place the tomatoes and peppers with a crushed clove of garlic and a sprig of thyme, cover with olive oil. Heat the pans with very low heat to comfit the vegetables. (remove from heat when you can prick them with a knife tip without resistance.)
4. Cut the zucchini into strips and fry them with olive oil without coloring. Season with slat before cooking. Be careful to not overcook them to make the assembly of the pie easier.
5. Pack the eggplants in aluminum foil, with a sprig of thyme. Roast them in the oven at 220ºC for 1 hour. When the eggplants are cooked, cut them in half to recover the heart.
6. In a saucepan, heat the eggplants' pulp to remove any juice excess. Season.
7. In a 5cm high cake pan, place the puff pastry on the bottom of the pan, make sure to not remove the baking paper.
8. Make layers with different vegetables. A layer of peppers, then zucchini, then of eggplant caviar, one of tomatoes, one of olive tapenade and start again.
9. When the mold is full, put a little bit of egg yolk on the edge of the dough, to allow the following pastes to stick with it.
10. Cover the mold with the second puff pastry (cut beforehand 2cm larger than the used mold).
11. Pinch the two pastes together, make sure that there are no air bubbles in the pie.
12. Place the oven plate upside down on the pan and turn the pan over. Remove the mold, and brown your pie with the rest of egg yolk.
13. You can have fun decorating the pie but you must not under any circumstances break through it.
14. Bake in the oven already hot at 210ºC for 10min then lower the temperature to 180ºC to finish cooking for 20min. Do not open the oven.
15. Your pie is ready, serve hot.