FIVE MINUTES WITH TINA CHAMOUN
What is your earliest memory of food?
My earliest memory of food is watching both of my parents cooking together in the kitchen. Each has a specialty; they both complement each other. Having two excellent chefs in our household exposed me to many different dishes and kinds of food.
What is your signature dish?
Warak arish/warak enab (rolled grape leaves) is my absolute favorite dish because my kids love it. It is a dish I love to share because many dread making it, really simple, delicious stuffing and only a matter of getting the rolling technique down!
I also enjoy making different types of ashta (clotted cream) stuffed desserts, like ashta cups (air fried or baked), znood el sit (traditionally fried), warbat / sha3biyeh (baked).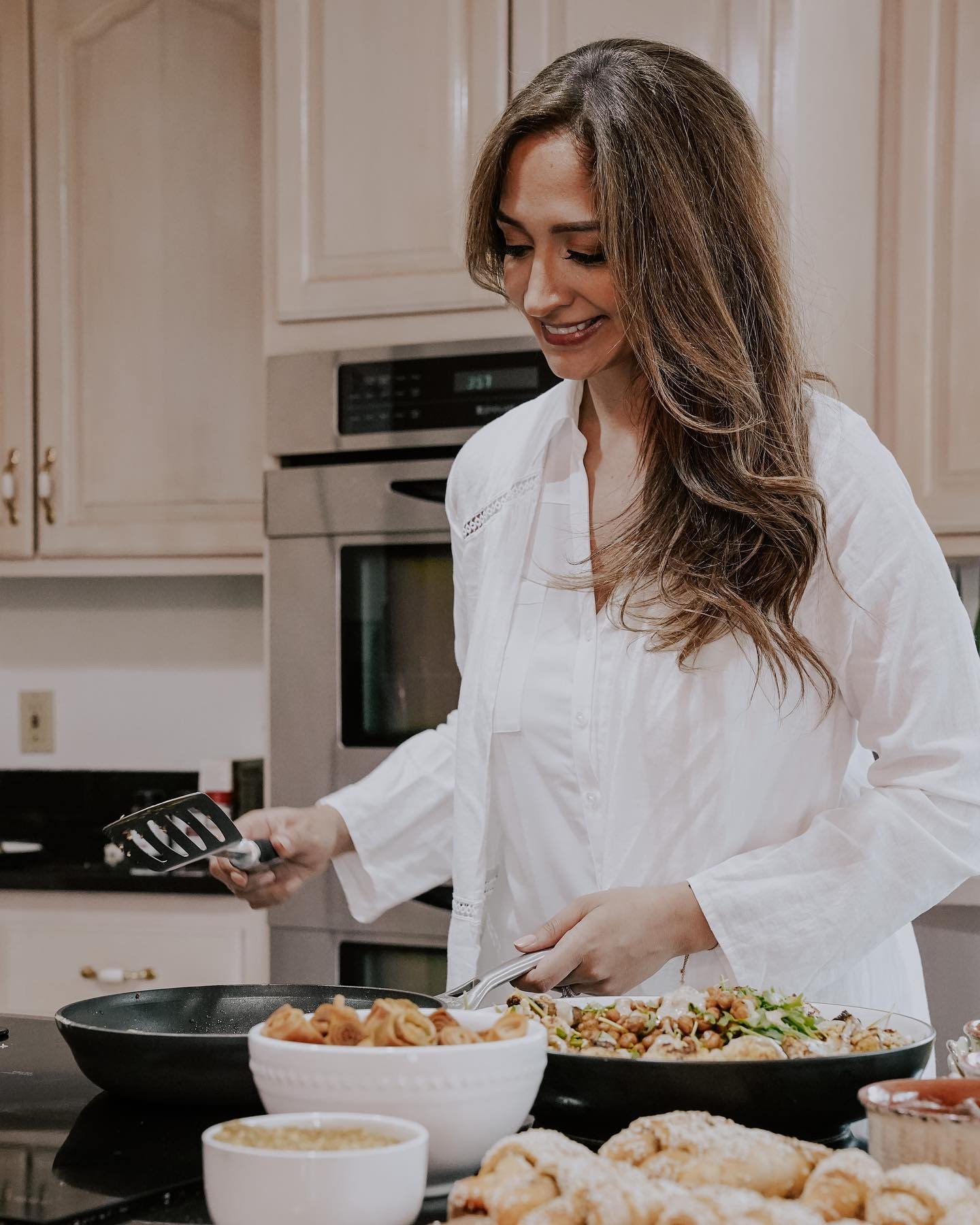 What are your favorite ingredients to work with?
Cinnamon: I use cinnamon and cinnamon sticks in many meat dishes and desserts.
Lebanese coarse sea salt as it is the absolute best quality.
Lebanese extra virgin olive oil like Olive Harvest.
Lebanese zaatar as there are many different creative ways to use it, for example, with chicken wings, lamb chops, carrots, and other vegetables, french fries, different kinds of cheese like shanklish and feta cheese, and even on popcorn.  I have launched my business Terranean Herbs & Spices to provide high-quality, filler-free zaatar to the American grocery market and consumers by importing authentic Lebanese zaatar to the USA. Through this business and my Your Lebanon platform I am able to continue selling and sharing delicious, healthy & versatile ways to use zaatar.
Can you share any of your culinary secrets with our home cook?
Write things down: Parents and grandparents cook with no measurements and don't follow recipes; this can be intimidating when you are getting started. There are some recipes you will memorize in time, but it never hurts to write recipes down. There are two benefits, the first is that you can always reference your notes when needed to make sure you are doing it right, and the second is to preserve them for future generations to learn and enjoy.
Compile a list of your favorite recipes: I have two lists, one for weekday dinners and the second for hosting large parties. Instead of scrambling to figure out what to cook every evening or what I can make that works best with large groups, I have a tried-and-true list I can reference.
How do you describe your overall cooking philosophy?
I enjoy cooking for others and hosting dinners. While it is always fun to cook on the go, I love preplanning that is why every Sunday I plan what I'm going to cook this week, and I measure and prepare all the ingredients for each meal in a clean and organized working space before I begin cooking. It is important for me to make delicious dishes but equally important for me to do it in a clean manner.