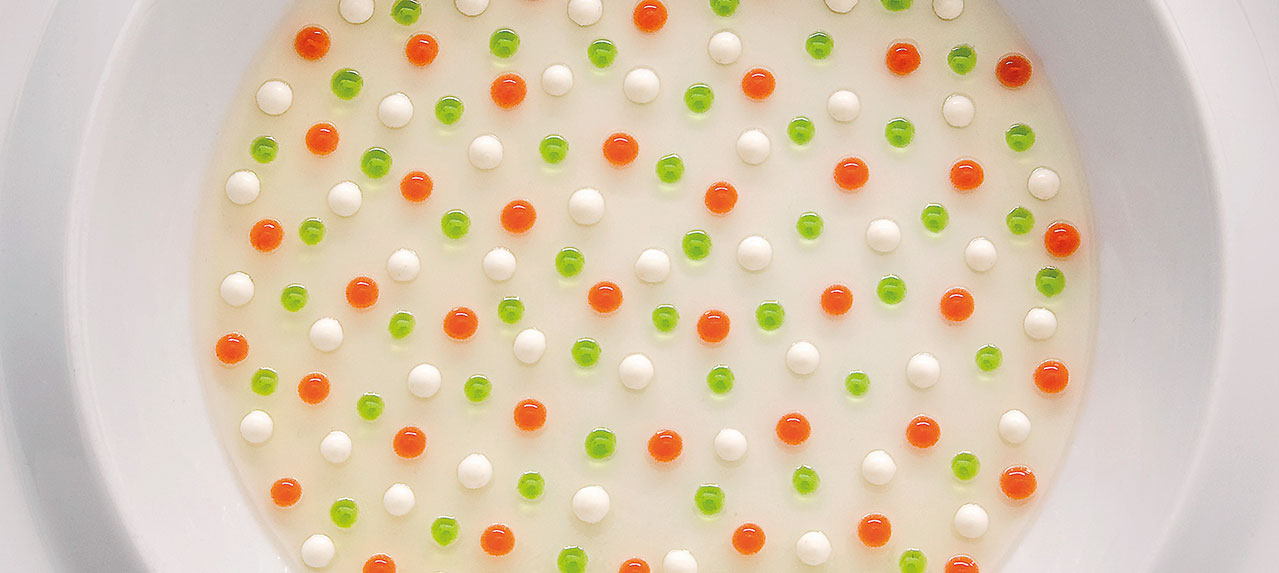 2 tomatoes (500g tomato juice)
3 gelatin sheets
Salt and pepper to taste
80g mozzarella
80g whipping cream
100g olive oil
100g basil leaves
1. For the tomato jelly, cut the tomatoes in four and put them in a food processor. Reserve the liquid.
2. Strain the tomatoes in a cloth to separate the liquid from the pulp. Cool the tomato juice and add the softened gelatin sheets. Sieve the mixture and mold in deep plates.
3. For the tomato pulp, put the pulp in a saucepan and mix to get a creamy sauce. Strain it, let it cool and put in a piping cone.
4. For the mozzarella cream, mix the mozzarella in a food processor, add lukewarm whipping cream, stir it and strain it. Let it cool and put in a piping cone.
5. To make the basil oil, mix the blanched basil leaves with the olive oil in a blender. Let the mixture infuse for 6 hours and then strain it in a cloth. Put the mixture in a piping cone.
How to serve
Pipe the mozzarella cream, tomato pulp and basil oil onto the jelly with the piping cones. Serve cold.