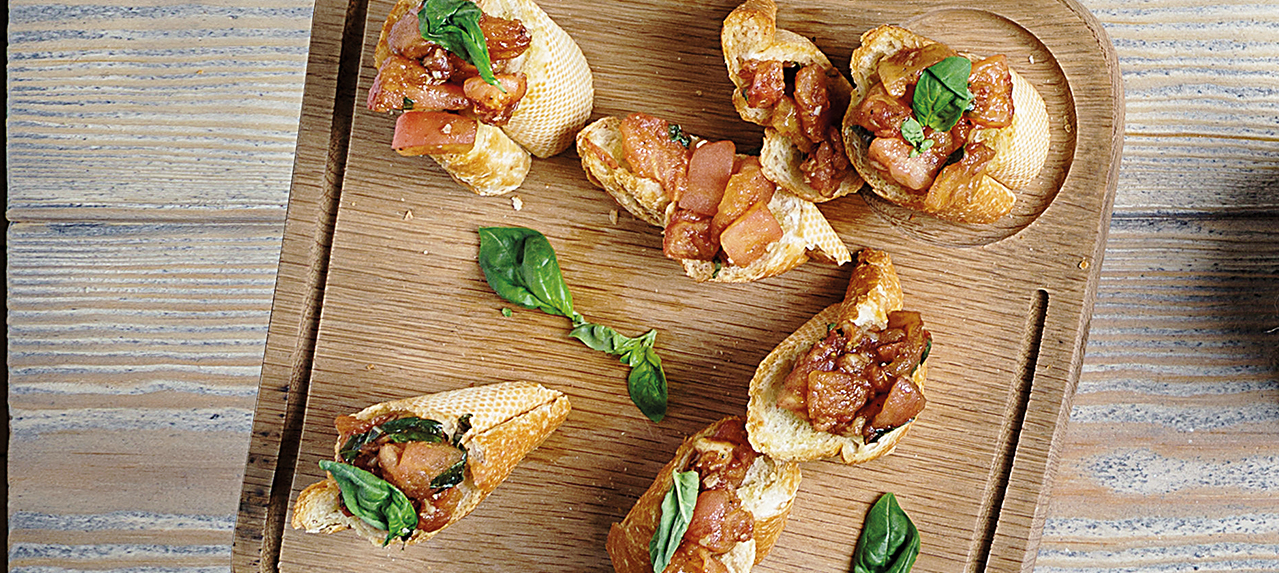 • 6 or 7 ripe and peeled plum tomatoes
• 2 cloves garlic, minced
• 1 tbsp extra virgin olive oil
• 1 tsp balsamic vinegar
• 6-8 fresh basil leaves, thinly sliced or chopped
• 1 tsp salt
• ½ tsp freshly ground black pepper
• 1 French baguette
• 60 ml olive oil
1. Preheat oven to 230°C with a rack in the top slot of the oven. Finely chop the tomatoes and place them in a medium bowl. Mix in the minced garlic, 1 tbsp extra virgin olive oil and the balsamic vinegar. Stir in the thinly sliced basil and add salt and freshly ground black pepper, adding more to taste. Note: tomatoes love salt – you may need to add more than you expect.
2. Toast the baguette slices – use a bread knife to slice the baguette on the diagonal, making half-inch thick slices. Brush one side of each slice with olive oil and place olive oil-side down on a baking sheet or roasting pan.
3. When the oven has reached 230°C place the slices in the oven on the top rack and toast for 5 to 6 minutes until lightly browned around the edges.
4. Serve toasted bread with tomato mixture: Arrange the toasted bread on a platter, olive oil side facing up (the olive oil will help create a temporary barrier keeping the bread from getting soggy from the chopped tomatoes). Either serve the toasts plain with a bowl of the tomato bruschetta mixture on the side for people to top their own, or use a spoon to gently top each.