TOMATO SOUP & SNACK BREAD STICKS
Serves 3 | Prep/Cooking Time 60 mins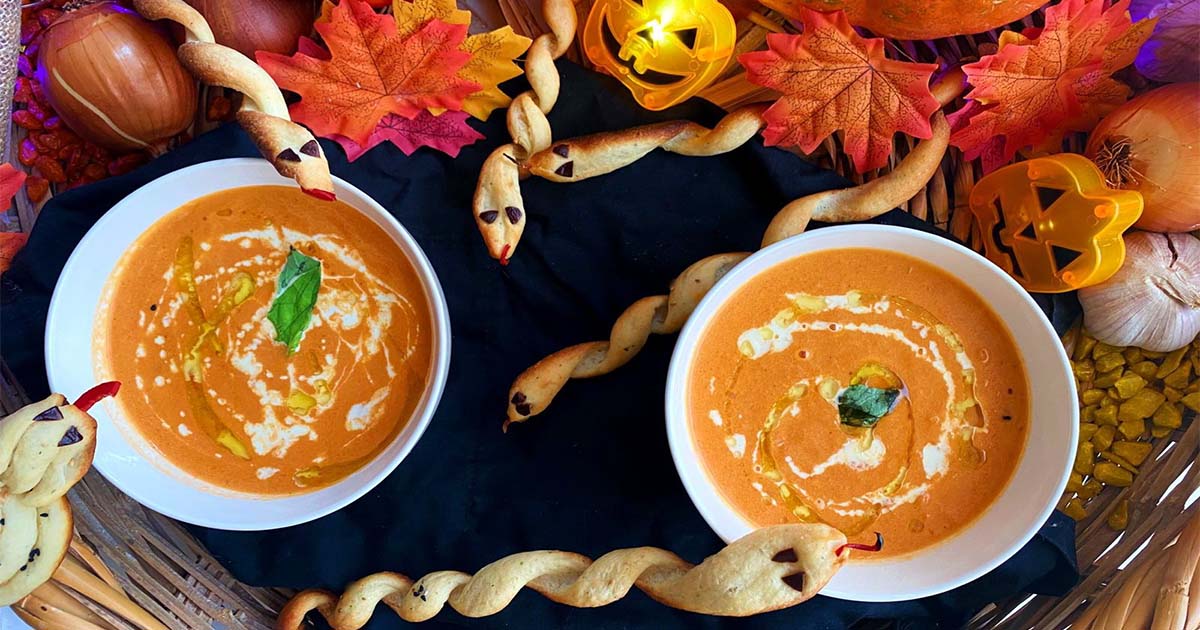 Bread sticks
2 cups flour (all purpose)
3/4 warm water
2 tsp yeast
3 tsp sugar
1 tsp salt
1 tsp dried basil
1 garlic powder
Tomato soup
4-5 large tomatoes cut in half
4 onions cut in half
2-3 garlic heads
Rosemary & salt
Drizzle of olive oil
1 cup veggie stock
3/4 cup cooking cream
Season to taste
Pre heat the oven at 180 °C.
Mix together all dry ingredients for the bread and gradually add water. Knead until smooth then cover and rest until doubled in size.
Remove the top of the garlic head. Place on baking sheet and drizzle with olive oil and rosemary salt. Bake for 30 min.
Cut your dough into equal parts and roll out each part. Twist around an oiled chopstick while pressing the top down (aka snakes head) then add olives as eyes and red pepper as tongue. Brush with olive oil and sprinkle black & white sesame seeds. Bake until golden brown (10-15min).
Blend together tomatoes, onions and squeeze out garlic. Transfer to a pot and gradually add veggie stock. Bring to a boil, then add cream and slightly reduce. Season to taste.
Optional: drizzle olive oil and cream before serving and top with basil leaves.