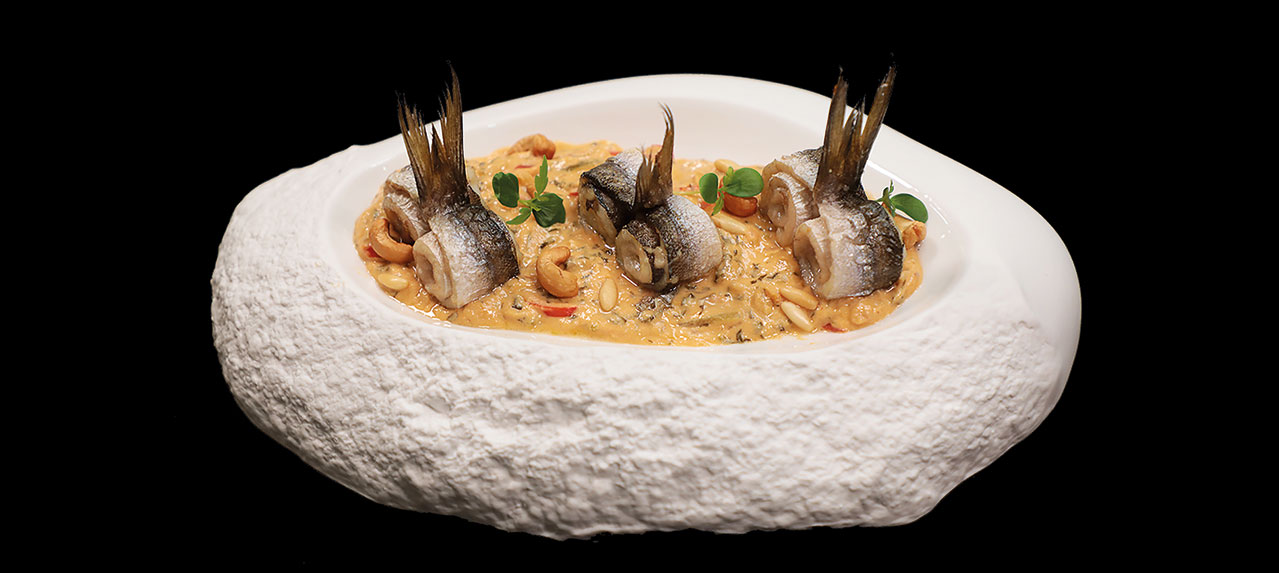 Sauce harrah
100g olive oil
150g onions
15g garlic
65g green pepper
65g red pepper
65g yellow pepper
20g chili pepper
50g tomato paste
75g minced fresh coriander
100g tomatoes
3g dry coriander
350g tahini
90g lemon juice
250g grapefruit juice
250g orange juice
50g mixed nuts (cashew, almonds, pine)
Sauce harra
 Slice the onions and the garlic.
 Cut the green, red and yellow pepper into julienne strips.
Cut the chili pepper into dices.
Heat the olive oil in a sauce pot over a medium heat. Add the sliced onions and garlic to the olive oil and heat them for 4 minutes.
Add the green pepper until it starts to soften before adding consecutively the red, yellow, chili peppers, tomatoes and the minced coriander.
Add the tomato paste and dry coriander and cook the mix for 3 minutes on a low heat.
 In a bowl mix the tahini, lemon juice, grapefruit juice and orange juice until the mixture becomes smooth and homogenized.
Boil the tahini mixture and the vegetable mixture together for 2 minutes on a low heat. Season mixture with pepper and salt. Spread the nuts on the top. Set aside.
For the fish
Remove the edges and debone using tweezers.
Season with salt, pepper, lemon and orange zest.
Fold the fish as shown.
Place in a baking dish with olive oil and cook at 185°C for 8 minutes.
Place on a serving plate above the sauce.
Hanna's Tip
Melva fish also known as 'Malifa' can be replaced with Sultan Ibrahim.