TRADITIONAL AUSTRALIAN LAMB KABSA
Serves 4| Preparation time 60 mins | Cooking time 120 mins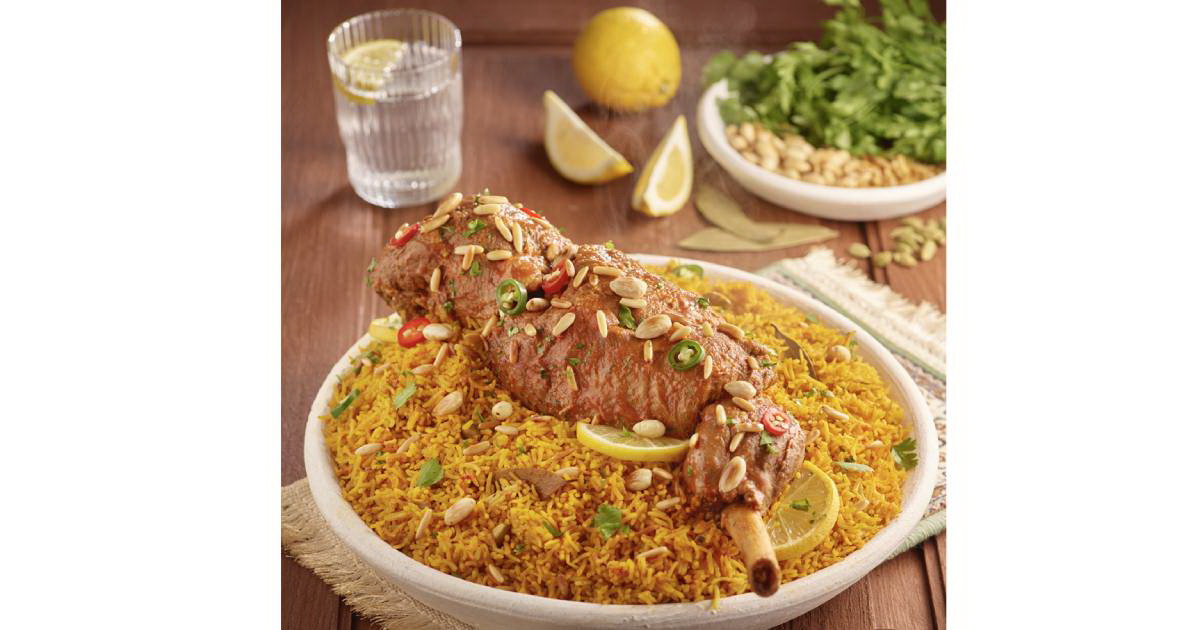 For the meat and rice
2-2.5kg Australian Lamb leg
4 cups basmati rice, cooked
1 big onion, cut into wedge
2 bay leaves
1 red bell pepper, cut into sticks
1 green bell pepper, cut into sticks
1 inch ginger, minced
1 tbsp kabsa spices
2 tomatoes, cut into wedges
2 cinnamon sticks
1 tsp. turmeric powder
1 tsp. coriander powder
5 cardamom pods
1 tsp. saffron
3 tbsp. ghee
1 cup yogurt
1 tsp. sugar
For the sauce
3 tomatoes, finely chopped
3 tsp. ghee
½ cup lemon juice
4 garlic cloves, crushed
½ cup tomato paste
2 tsp. salt
To garnish
Pine nuts
Almonds, peeled
Parsley leaves
Raisins
Lemon slices
Red and green hot peppers
For the Sauce
Melt ghee in a pan.
Add garlic, tomato paste, tomatoes, and lemon juice.
Mix well.
For the Meat & Rice
Melt ghee in a pressure cooker.
Add onions, cinnamon sticks, cardamom, and bay leaves.
Then, add garlic, coriander powder, kabsa spice, and salt.
Add red and green bell peppers, tomatoes, and yogurt.
Stir well to combine.
Next, add in the lamb and 1 liter of water, then close the lid and allow to cook for 60 minutes.
Once the lamb is cooked, set it aside.
Add the sauce prepared to the lamb broth, along with rice and sugar.
Add a pinch of saffron, cloves, and turmeric powder.
Mix gently and cook for 8-10minutes.
To Garnish
Roast pine nuts and almonds.
Top the rice with lamb and garnish with pine nuts, raisins, almonds,  parsley, lemon slices, and hot peppers.