التبولة التقليدية
TRADITIONAL TABBOULEH
TABBOULEH TRADITIONNELLE
لـ ٤ اشخاص • ٢١٠ سعرات حرارية لكل حصة
Serves 4 | 210 calories per Serving
Pour 4 personnes | 210 calories par portion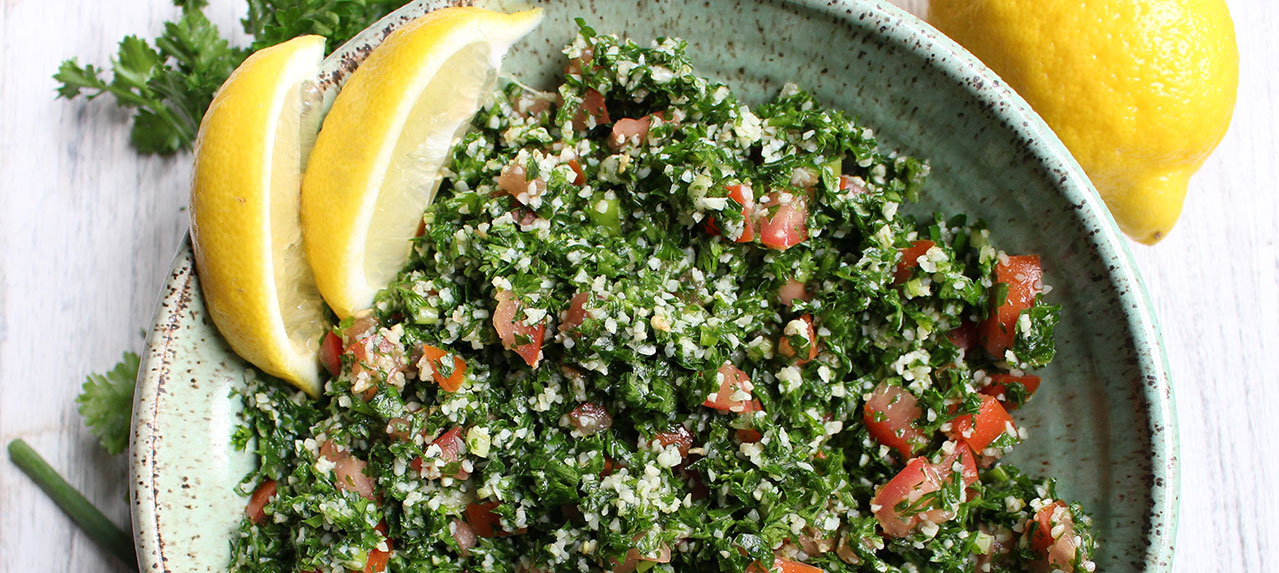 ربع كوب برغل ناعم – ٤٥ جم
٢ كوب من البقدونس الطازج المفروم فرماً ناعماً – ٨٠ جم
نصف كوب من أوراق النعناع الطازجة المفرومة – ٢٠ جم
كوب من البندورة المفرومة فرماً ناعماً – ١٦٠ جم
ربع كوب من البصل الأخضر المفروم فرماً ناعماً
¼ cup fine bourghul (45g)
2 cups finely chopped fresh parsley (80g)
½ cup finely chopped fresh mint leaves (20g)
1 cup finely chopped tomatoes (160g)
1/3 cup finely chopped spring onion
¼ tasse de bourghul fin (45g)
2 tasses de persil frais finement haché (80g)
½ tasse de feuilles de menthe fraîche finement hachées (20g)
1 tasse de tomates hachées finement (160g)
1/3 tasse d'oignon vert finement haché
الصلصة
ربع كوب عصير حامض طازج
١/٣ كوب زيت زيتون
قرفة، فلفل أسود، ملح حسب الرغبة
Dressing
¼ cup fresh lemon juice
1/3 cup olive oil
Cinnamon, black pepper, salt to taste
Sauce
¼ tasse de jus de citron frais
1/3 tasse d'huile d'olive
Cannelle, poivre noir, sel au goût
١. اغسل البرغل واتركه في ماء دافئ حتى يصبح طريًا – حوالي ١٥ دقيقة
٢. امزج البرغل مع بقية المكونات في وعاء
٣. أضف الصلصة
٤. يقدم مع أوراق الملفوف الأبيض أو الخس
1. Wash the bourghul and leave it in warm water until tender (around 15 minutes).
2. Mix the bourghul with the rest of ingredients in a bowl.
3. Add the dressing.
4. Serve with white cabbage leaves or lettuce.
1. Lavez le bourghul et laissez-le dans de l'eau tiède jusqu'à tendreté (environ 15 minutes).
2. Mélangez le bourghul avec le reste des ingrédients dans un bol.
3. Ajouter la sauce.
4. Servir avec des feuilles de chou blanc ou de la laitue.