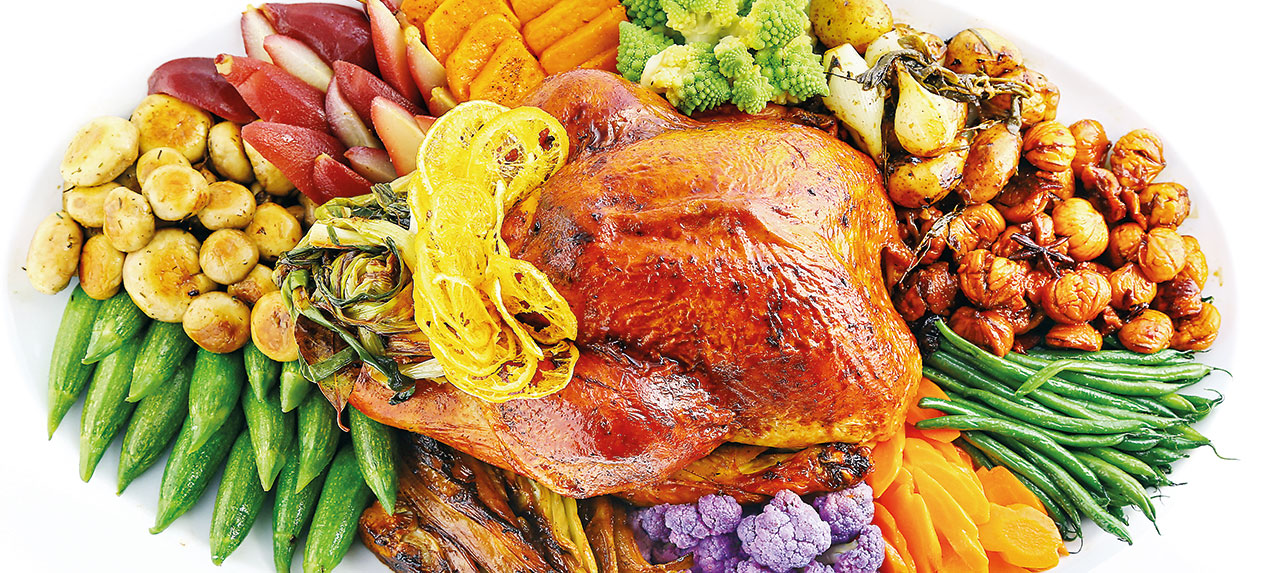 5.5 kg turkey
10 g salt
5 g black pepper
5 g French thyme
2 g cinnamon sticks
1 g bay leaves
1 g star anise
160 ml white wine
1000 g chicken stock
150 g mirepoix (below)
150 g orange butter (below)
MIREPOIX
100 g medium-diced onion
50 g medium-diced carrot
30 g medium diced celery
50 g medium-diced leek
20 g garlic clove
1 rosemary sprig
1 sage sprig
4 orange slices
ORANGE BUTTER
1kg butter room temperature
20 g sage leaves
15 g orange zest
10 g French thyme leaves
10 g Tabasco
50 ml Grand Marnier
50 ml Red Porto
10 g minced garlic
150 ml orange reduction
10 g salt
2 g white pepper
10 g basil chiffonade leaves
1. Season the turkey with salt and black pepper.
2. Put in a roasting pan and fill it with mirepoix, French thyme, cinnamon sticks, bay leaves and star anise from inside and outside.
3. Spread the orange butter all over the turkey.
4. Cross the turkey's legs and tie with kitchen twine.
5. Cook it in a 180°C preheated oven for 45 minutes. Add the wine and cook for 20 minutes.
6. Add the stock and keep cooking it in the oven for 1 hour, basting it every 15 minutes with the stock.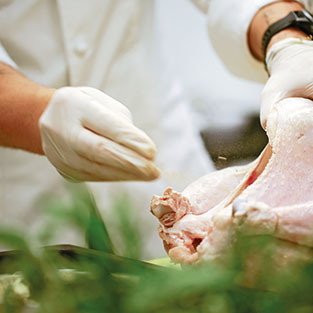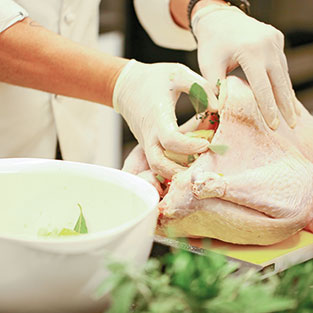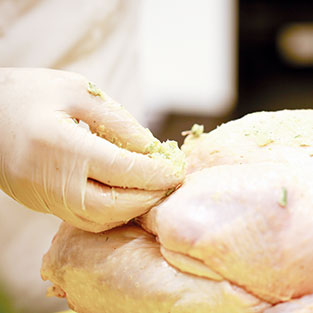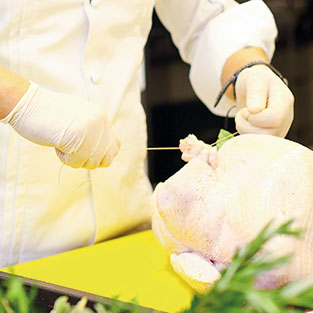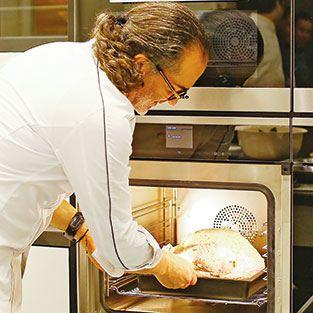 1. Sauté the mushrooms with olive oil, garlic, salt, pepper and French thyme.
2. Sauté the broccoli with butter, salt and pepper.
3. Sauté each ingredient with butter, salt and pepper.
4. Sauté the potatoes and onions with butter, salt, pepper, rosemary, French thyme and olive oil.
5. Sauté the sweet potatoes with butter, salt and pepper. Spread over honey and bake in the oven for 10 minutes.
Caramel for chestnuts
Makes 300g
50g sugar
50g brown sugar
75ml red wine
35ml Red Porto
100g veal juice
6 pcs star anise
6 pcs cinnamon sticks
60g butter knobs
Caramelized Chestnuts
Makes 450g
400g or 36 chestnuts
50g caramel for chestnuts
1g star anise
1g cinnamon stick
Chestnut Sauce
Makes 1200g
600g demi-glace
600g veal jus
150 ml red wine reduction
200g chopped caramelized chestnuts
5g salt
1g black pepper
10g truffle paste
30g cornflour
50g butter knobs
10ml truffle oil
For the Sautéed Vegetables
1. Place the sugar and brown sugar in a pan, till you have a caramel.
2. Add red wine, red porto and veal juice, then mix till well incorporated.
3. Add star anise and cinnamon sticks, then boil for 30 minutes.
4. Take off heat, add the butter and mix.
To caramelize the chestnuts:
Put the chestnuts, caramel, star anise and cinnamon in a pot and cook on low heat for 25 minutes.
For the Chestnut Sauce:
1. Mix veal juice and demi-glace together then put on heat.
2. Add red wine reduction and chestnuts; boil for 20 minutes on low heat.
3. Add truffle cream, salt and black pepper.
4. Thicken with cornflour.
5. Add butter then truffle oil.