TRUFFLE WITH CHEESECAKE VANILLA & TRUFFLE GANACHE 
Serves 10 | Prep. Time 60mins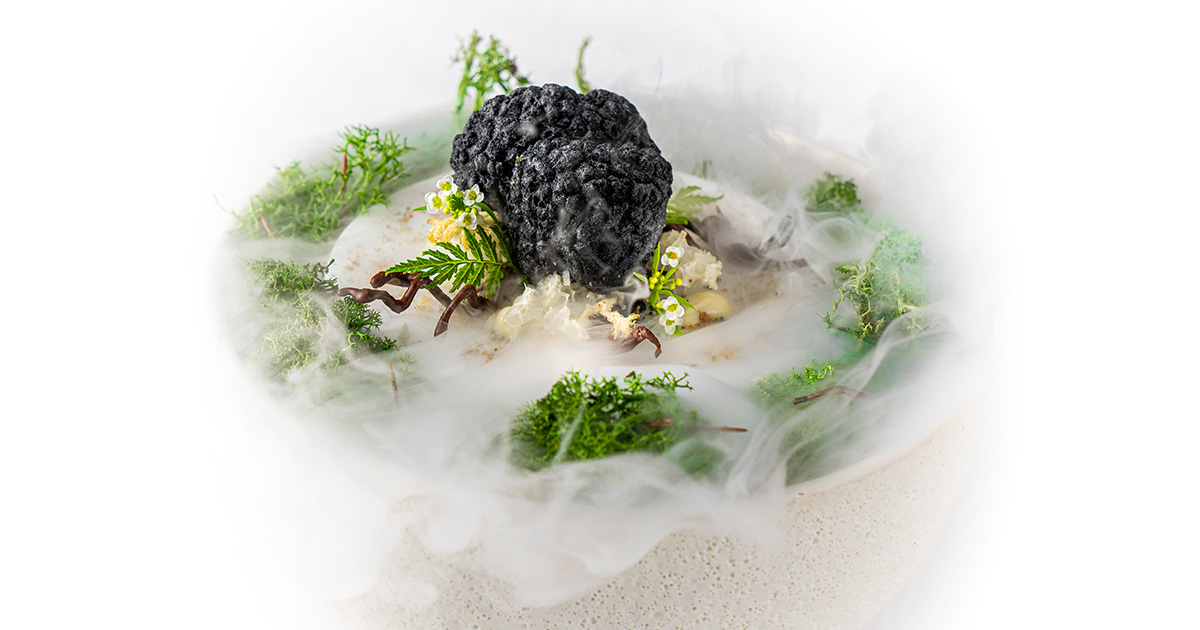 WHIPPED CHEESECAKE VANILLA GANACHE
300 g Philadelphia cream cheese
700 g cream
4 pcs vanilla
120 g Ivoire white chocolate
4 g gelatin
100 g cream
50 g sugar
10 g fresh black truffle
5 g black truffle oil
1 g fine sea salt
BLACK SPRAY
10 g charcoal powder
10 g black cacao butter color
250 g cacao butter
200 g Manjari chocolate
AERO CHOCOLATE
300 g Ivoire white chocolate
50 g cocoa butter
10 g black truffle oil
30 g toasted (sliced sour dough powder brushed with brown butter, blend it, sift it use it before vacuuming the mix)
1,2 g fine sea salt
TRUFFLE GANACHE  Frozen pearls for the middle
300 g white chocolate
550 g cream
35 g truffle oil
1 g fine sea salt
CHOCOLATE ROOTS
100 g temperated Jivara and Manjari Chocolate
SWEET SABLE under the truffle "cheesecake" base
200 g butter
100 g icing sugar
33 g whole eggs
300 g flour
1 vanilla pod1s seeds
0.5 g cinnamon, ginger and nutmeg powder
FOR PLATING AND DECORATION
2 pcs Marigold leafs
1 white Elysium flowers
3 types of sour bread powder
WHIPPED CHEESECAKE VANILLA GANACHE
Bring the cream and vanilla to the boil , add the Philadelphia and sugar, and infuse until dissolved.
Pass through the sieve. Add the soaked gelatin.
Pour on the white chocolate and finish with the cold cream. Mix and cool down. Keep in the fridge until the next day.
Whip, add fresh truffle, and truffle oil, and mold into truffle silicone. Spray in black
AERO CHOCOLATE
Melt the white chocolate and the cocoa butter together.
Add in the salt, truffle oil & sourdough powder and strain through a very fine strainer.
Empty plastic container, 1 clean and dry 2 chargers.
Temper the chocolate mixture to 28°C, then heat and bring back to 30°C.
Place in the siphon gun and charge with the chargers, making sure to shake the siphon vigorously throughout the process.
Immediately pipe into the containers, sprinkle over the breadcrumbs, and vacuum for 10-15 seconds till the chocolate aerates (a bit over 3 quarter of the container's height).
Stop the machine immediately and let the chocolate stay in the vacuum for at least 4 hours till set, else it will collapse on itself.
Remove from the vacuum machine after 4 hours, cut out the sides of the chocolate in the container itself and rest in the chiller overnight.
TRUFFLE GANACHE  
Heat cream at 60°C, and add truffle oil.
Pour over white chocolate and emulsify with a hand blender.  Keep in chiller in a bottle
CHOCOLATE ROOTS
Use ice cubes with water in the tray and pip on this the chocolate as the shape of a root.
Remove it for the ice cubes to the try and sprinkle over with cacao powder.
SWEET SABLE UNDER THE TRUFFLE "CHEESECAKE" BASE
Mix everything together.
Roll it out no. 6,8. Cut it with the 3 cm diameter cutter.
Bake it at 175°C for 6-7 mins.
FOR PLATING AND DECORATION
1st green with fresh parsley and toasted sour bread crumbs
2nd black charcoal powder and toasted sour bread crumbs
3rd plain toasted sour bread crumbs