TURMERIC CHICKEN WITH CRISPY POTATOES
Serves 2 | Prep time 70 mins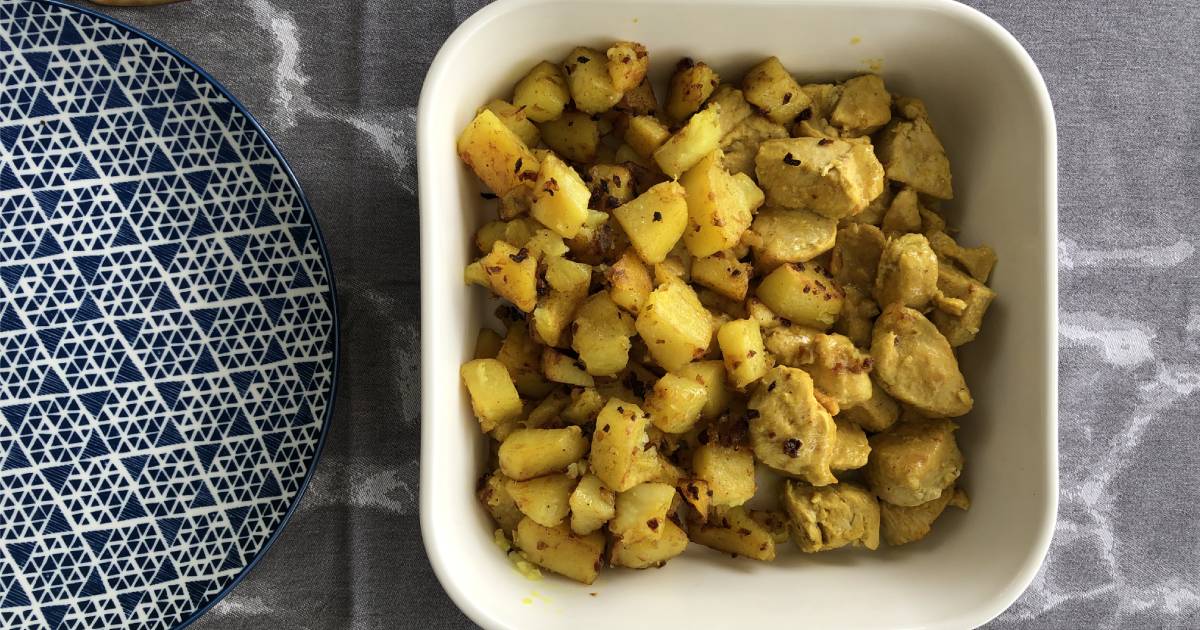 4 tbsp Olive oil
1 tsp mustard powder
Salt
White pepper
30g fresh turmeric Juice
Turmeric Powder
500g chicken breasts
3 tbsp Dijon Mustard
3 cups potatoes cubes
½ onion chopped
2 cloves garlic, sliced or minced
1 tsp turmeric powder
¼ tsp black pepper
Dressing – Honey Mustard Dip:
1 tbsp. American Mustard
1 tbsp Honey
1 tsp Dijon mustard
TURMERIC CHICKEN 
.Cut the chicken breasts in cubes.
.Combine the chicken with 2 tbsp of  olive oil, mustard powder, Dijon mustard and the turmeric juice.
.Add a pinch of salt and white pepper then marinate the whole mix for 30 minutes.
.Preheat oven to 180 degrees.
.Place the mix in a baking tray and cook for 30 minutes
CRISPY TURMERIC POTATOES
.In a small bowl, combine onion, garlic, potatoes, turmeric powder and the black pepper.
.Add 2 tablespoons of olive oil.
.Combine everything until the potatoes are well-coated.
.Preheat oven to 180 degrees.
.Line a baking sheet with parchment paper.
.Pour the potatoes onto the baking sheet.
.Bake for 30-35 minutes, removing every 10 minutes to stir and toss the potatoes for even baking.
Turmeric is a flowering plant from of the ginger family. It is commonly used in Asian food. It has a warm, bitter taste and is frequently used to flavor curry powders, mustards, butters and cheeses. Turmeric has long been recognized for its medicinal properties.
Below is a list of the major benefits of Turmeric:
1-Has Anti-Inflammatory properties
2-Helps prevent and manage arthritis
3-Boosts immune system
4-Has anti-oxidant effects
5-Aids in the management of the metabolic syndrome (diabetes,  hyperlipidema…)
6-Might aid in the management if anxiety