VANILLA AND RASPBERRY ICED VACHERIN
Serves 6
Prep 90 mins | Cooking 60 mins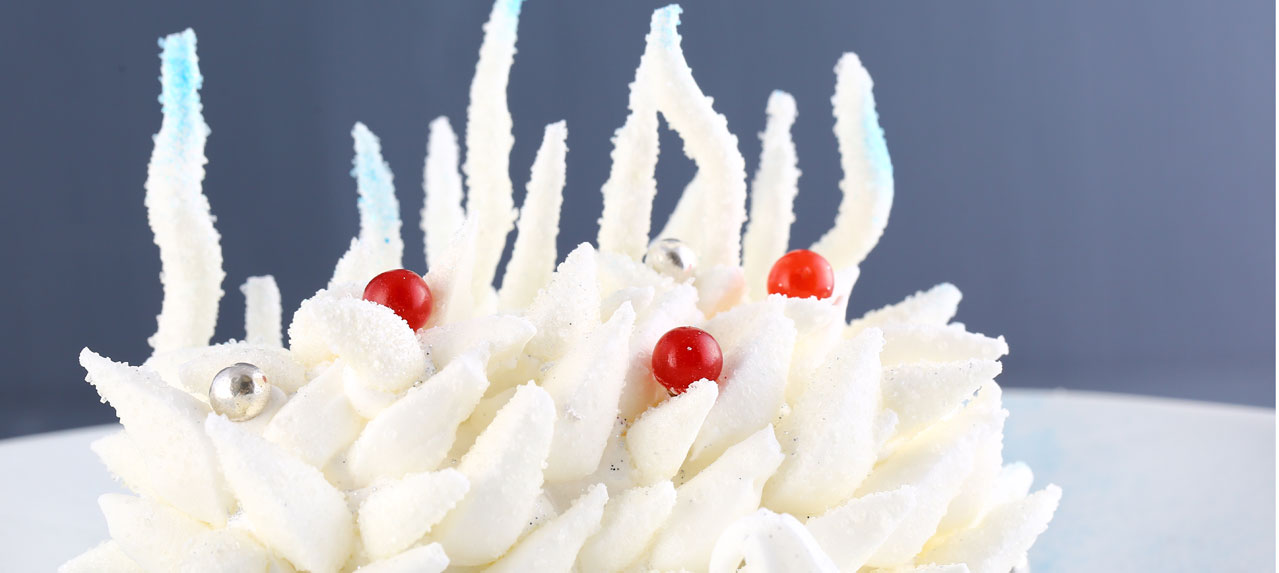 Meringue
• 2 egg whites
• 250g caster sugar

Raspberry sorbet
• 180g sugar
• 60g glucose syrup
• 200g water
• 550g raspberry purée
Vanilla ice cream
• 200g egg yolks
• 200g sugar
• 1 vanilla pod
• 1L milk
Meringue
1. Pour the egg whites into an electric stand mixer. Add the castor sugar. Combine with a whisk to incorporate the castor sugar. Beat until you obtain a meringue.
2. Scoop the meringue into a piping bag fitted with a plain nozzle. On a Silpat baking mat 40 x 30cm, pipe the meringue into the desired shape. Sprinkle the meringue with silver coloring. Bake at 80°C for 2 hours. Set aside.
Raspberry sorbet
3. In a saucepan, pour the sugar and glucose syrup. Bring to the boil and cook until the sugar is melted and has a syrupy consistency. Pour the syrup over the raspberry purée and combine well. Pour the preparation into an ice cream maker.
Vanilla ice cream
4. Place the vanilla pod and seeds in the milk and bring to the boil.
5. Separate the eggs. Pour the sugar in a thin stream over the egg yolks. Beat the eggs and sugar vigorously until light and fluffy.
6. When the milk starts boiling, pour over the egg yolk mixture and beat with a whisk. Transfer the resulting mixture into the receptacle used to boil the milk.
7. Strain the custard through a Chinois with metal mesh or a fine sieve. Set aside to cool, stirring frequently. When the custard is cold, transfer into the ice cream receptacle.

Assembly
8. Pipe the vanilla ice cream at the bottom of a mold. Pipe the raspberry sorbet using a piping bag. A few hours later, remove the vacherin from the mold.
9. Place the cake on a plate, place the small decorating meringues. Finish by placing small pieces of silver leaf and pearls on top of the meringues. Decorate the plate with raspberry sauce. Keep in the freezer until ready to serve.