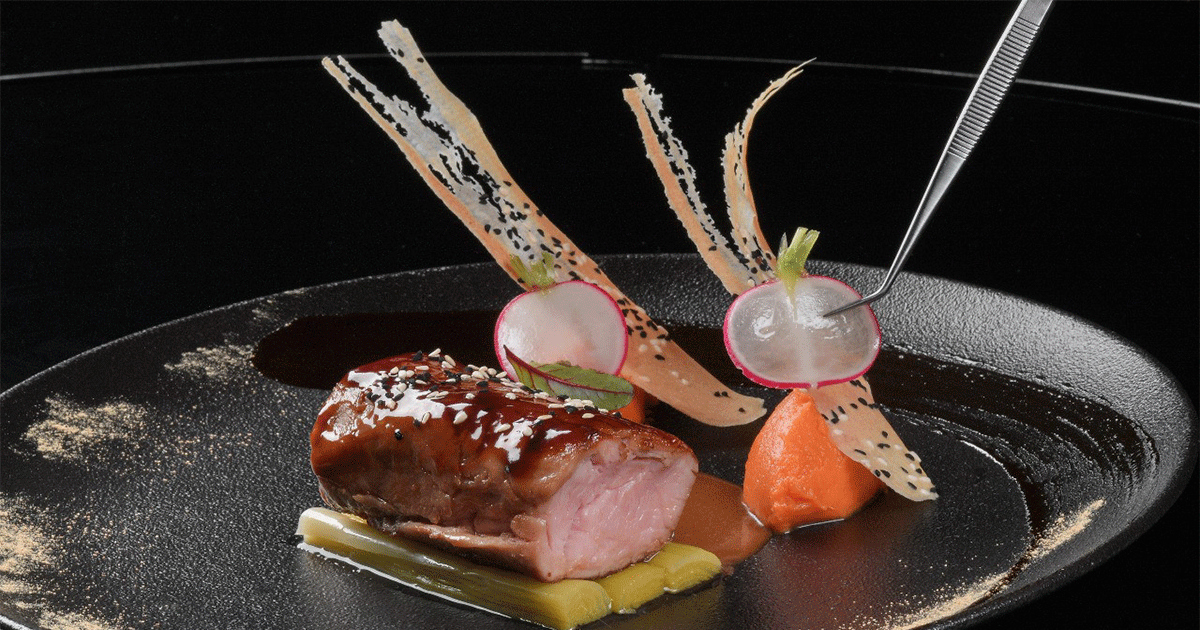 1200 g veal filet mignon
100 ml hoisin sauce
100 ml veal stock
20 g sesame seeds
500 g sweat potatoes
20 g butter
30 ml sesame oil
12 mini leeks
50 g flowers
4 pink radishes
Salt/pepper
Wrap the sweet potatoes in aluminum foil with salt and bake at 180 °C for around 45 minutes.
Remove the sweet potatoes from the foil.
Peel then mash adding butter and sesame oil. Taste for the seasoning and keep warm.
Clean the mini leeks and cook them in boiling salted water.
Once cooked, drain and add ice-cold water to preserve their beautiful green color. Set aside.
For the tiles, preheat the oven at 160 °C.
Whisk the flour with little water to make a smooth dough that you can spread with a brush. Lightly salt and sprinkle some sesame seeds.  Cook for 6 to 8 min.
Clean the veal tenderloins, remove the central nerve on the top of the tenderloin and cut into 4 equal portions of about 200 g.
Sear the veal tenderloins in a hot frying pan with olive oil, brown them well on both sides and cook in the oven at 180 °C, making sure they are pink. If you have a meat thermometer, remove from the oven at 58 °C.
Lacquer them with the hoisin sauce and sprinkle some salt and sesame seeds.
Reheat the veal sauce and leeks and plate them harmoniously.
TIP: For decoration, you can cut a few slices of pink radish, which will add a little crunch and color.
MORE RECIPES BY CHEF MICKAEL GANTNER